How To Watch the Sesame Street COVID-19 Town Hall About Kids' Vaccines
The most trusted muppets are aiming to ease kids' fears.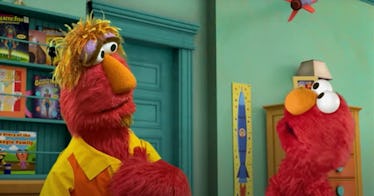 Parents of young children have spent the last year navigating, adjusting to, and worrying about COVID-19 — but the world has drastically changed for kids, too. Luckily, huge changes are on the horizon, now that the Pfizer COVID-19 vaccine for kids between five and 11 years old has been approved for emergency use. And for parents who want to explain the vaccine to their kids, or for kids who have a lot of questions and Sesame Street is teaming up with CNN to answer questions and reduce anxiety and fear over the COVID-19 vaccine.
The half-hour special, airing on CNN and CNN International at 8:30 a.m. on Saturday, November 6, will be titled The ABCs of COVID Vaccines and will be hosted by CNN anchor Erica Hall and CNN Chief Medical correspondent Dr. Sanjay Gupta.
Of course, some of Sesame Street's more familiar residents will be featured, too, including Big Bird.
In the special, the experts and trusted muppets will answer questions kids have about the COVID-19 vaccine. They'll also speak about staying healthy through the ongoing pandemic and will provide resources for kids to help them process their feelings about the "unprecedented challenges in their young lives." After all, it's not just parents who have been stuck inside for the better part of 18 months — kids also had their routines and lives disrupted, and their feelings about those changes should be honored.
Sesame Street has been an important and helpful resource for kids and their parents over the course of the past year or so. The ABCs of COVID Vaccines is another addition to Sesame Workshop's Caring for Each Other initiative, which provides resources to kids and parents free of charge during the pandemic.
Recent specials have included the upcoming one include The ABCs of COVID-19, Coming Together: Standing Up to Racism, and The ABCs of Back to School.
The vaccine special will stream live for subscribers via CNNgo and through CNNgo apps on Chromecast, Amazon Fire, Roku, Apple TV, and Smart TVs. It will also be available on CNN mobile apps for iOS and Android.
Check out The ABCs of COVID Vaccines special, which will air on CNN and CNN International at 8:30 a.m. ET on Saturday, November 6.