Roy Kent Is Crashing 'Sesame Street': How to Watch the Episode
Ted Lasso's Brett Goldstein is hanging with Elmo and the gang.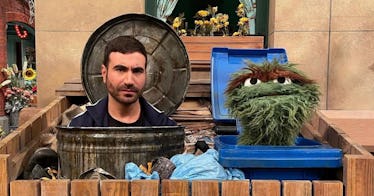 Sesame Street
In a crossover we didn't know we needed but are equally thankful we have; Roy Kent crashed Sesame Street and is hanging out with Elmo and pals. If you're as excited for this as we are, here's everything you need to know – including how to catch the episode.
Ted Lasso's Brett Goldstein is making a visit to Sesame Street and in a newly released clip it's clear that it's probably going to be a super fun crossover for parents to watch. He's not technically showing up in his Roy Kent character, but there's enough of a subtle growl there to allow us to pretend, which is good enough for us.
"I met a kindred spirit the other day," Brett shared on Twitter. "I told him we had a lot in common. He told me to scram." The quick 16-second clip shows himself and Oscar sitting next to each other in their own bins. Big Bird appears and while singing, he walks over to Oscar and Brett before asking, "Isn't it a beautiful day?"
In true Roy (err, Brett) and Oscar fashion, neither are impressed by the sunny Big Bird and exchange a look that makes it clear they're both over the sunshine and they pop their heads back into their trash cans.
I finally found my way to Sesame Street… and it was more wonderful than I could have imagined," Brett wrote on Instagram. "Everyone was so funny and brilliant and friendly and kind. I managed to get to say hi to all the residents except Snuffleupagus who was sleeping…. Truly a beautiful cast and crew that fill that whole street with all the love you could wish for."
The air date for Brett's visit to Sesame Street hasn't been released yet, but it will come a little later this year. Until then you can catch up on Sesame Street episodes on PBS and HBO Max.