Celebrate "Sesame Street"'s 48th Birthday By Re-Watching These 8 Iconic Moments
Nearly 50 years later, 'Sesame Street' remains the most beloved kid's show ever made.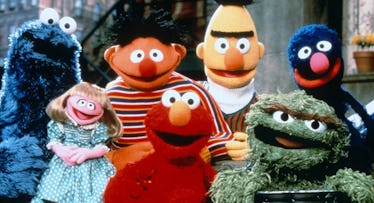 Sesame Street
Forty-eight years ago today, Sesame Street burst onto television screens and forever changed the landscape of children's entertainment. Before Jim Henson's brainchild debuted, kids were mainly an afterthought when it came to television or movies. Sesame Street changed that. It didn't talk down to kids or treat them differently; instead, it believed that educating and entertaining children is not a responsibility that should be taken lightly. And over the course of nearly five decades, Big Bird, Elmo, and the rest of the Sesame Street gang have shaped countless lives and continued to be loved by kids. To celebrate the debut, here are a few of our favorite classic Sesame Street moments.
Bert and Ernie Sharing Licorice
The original odd couple has been making us laugh with their love-hate relationship since the early days of Sesame Street. Here, Ernie manages to use a little illogical logic to get out of having to share his licorice with Bert. More than 40 years later, the bit still holds up.
Me and My Llama (Going to the Dentist)
Sure, Sesame Street was full of learning and heartfelt sentimentality but the show is never so serious that it forgets to be fun and silly for the sake of being, well, fun and silly. Case in point: This song about taking a llama to the dentist. Why? Because why the hell not?
It Ain't Easy Being Green
Kermit may not be an official resident of Sesame Street but his most famous song was originally performed during the show's first season.
Mr. Hooper Is Gone
Mr. Hooper was one of the original humans to appear on Sesame Street. Sadly, the elderly shopkeeper died in 1983. Rather than pretending that everything was fine or that Hooper had just moved to a different town, Sesame Street simply addressed Hooper's passing on air. It's an incredibly touching moment, one that exhibits how well the show explains things to young viewers without ever talking down to them. |Seeing Big Bird try to make sense of his friend's death is still heartbreaking.
Put Down the Duckie
Sesame Street is full of iconic musical moments but perhaps none was better than this classic tune from the 1988 prime-time PBS pledge-drive special. The song itself is great and the cast are joined by such celebrities as John Candy, Jane Curtin, and Pee Wee Herman. What more could you ask for?
Elmo's World
Elmo's World began in 1998 as a way to save Sesame Street from its declining ratings but ended up becoming one of the staples of the show. The beloved character uses the time to talk about something he likes, such as birthdays or karate and proves that celebrating simple joys is something everyone can appreciate.
What is Alive?
The one thing that Sesame Street has always done better than any other kid's show is really getting understanding the mind of a child. In this simple, short video, Big Bird and Snuffleupagus perfectly encapsulate the childlike sense of wonder we all experience as we begin trying to make sense of the world around us.
Meet Julia
Earlier this year, Sesame Street introduced a new character named Julia, a Muppet with autism. She's a character of wonderful depth that serves to provide families and children with insight into the neurologically different. Julia's addition continued the show's long history of inclusivity and acceptance.