Sensical Finally Gives Parents "Age Appropriate" Streaming For Kids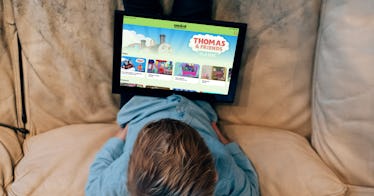 Sensical
Since 2003, the biggest non-profit tackling the various thorny issues of kids' entertainment has been Common Sense Media. This grassroots organization takes the time and effort to dig deep on various TV shows and movies — aimed at kids — and tries to arm parents with information ahead of time. This goal might scan as overly conservative (lower case "c") at first blush, but the aggregate efforts of Common Sense Media are hard to dispute. Do parents really have time to watch everything before their kids watch it? Are you willing to roll the dice? It's a thankless job, but Common Sense is more than happy to do it, and, even if you don't always agree with their reviews, their advice is invaluable.
Now, Common Sense Media has taken its hand-crafted approach to kids' media curation and applied it to an actual streaming service. Too busy to double-check reviews on Common Sense (or Fatherly, or Scary Mommy) to make sure something is totally appropriate for your kiddo's age level? The new streaming service Sensical has taken out a step. According to a new press release:
Sensical is "The algorithm-free destination where kids can scroll, tap and follow their passions across 15,000+ hand-selected videos and 50+ topic-based channels will be available beginning today via web and mobile on iOS, Android, the Roku ® platform, Amazon Fire TV, and Apple TV."
Age-Appropriate Categories Are a Game-Changer
Other than the fact that it's a free and safe streaming service for kids — and all the programming is curated by a team of experts — the biggest draw for parents should be this: Three distinct age-appropriate groups for shows and movies. Think about it. This is the NUMBER ONE problem for picking out shows for your little ones. Far too often, toddlers and grade-school kids get lumped together on other streaming services, meaning even if you're watching something good, it might be appropriate for the kids' age level.
But, it looks like Sensical is tackling that problem, with "an interest-based learning approach serving three distinct audiences":
preschoolers (ages 2-4),
little kids (ages 5-7)
big kids (8-10)
Free Service, Lots of Familiar Content
Obviously, one fear a parent might have with a service like this is that all the shows and movies will be generic or, worse, simply not popular with kids on a visceral level. But, the deep library on Sensical makes it seem like that's not the case. Here's a sampling of the partnerships powering Sensical. (Plus a trailer below that which shows you what you're getting.)
"Common Sense Networks also announced dozens of new, noteworthy content alliances with studio/distribution partners including CAKE (Poppy Cat), Cyber Group Studios (Leo The Wildlife Ranger), The Jim Henson Company (The Wubbulous World of Dr. Seuss, Jim Henson's Animal Show with Stinky and Jake), Mattel (Kipper, Pingu, Max Steel), Raydar Media (Five Apples' limited series, Apple Tree House), Superights (Bo Bear, Handico), WildBrain (Teletubbies, Rev & Roll), Xilam Animation (Learn and Play with Paprika, Moka's Fabulous Adventures), ZDF Enterprises (Lexi & Lottie, School of Roars), and Zodiak Kids (Mister Maker, Tee and Mo); and digital first creators including ABCMouse, Aaron's Animals, Alphabet Rockers, batteryPOP, California Academy of Sciences, GoldieBlox, The Gotham Group's Gotham Reads, Guggenheim Museum, Howdytoons, Kids' Black History, MEL Science + Chemistry, N*Gen, Pinkfong, Penguin Random House's Brightly Storytime, Studio71 (Parry Gripp, Maymo, Hyper Roblox), Tankee, Ubongo Kids, Vooks and more."
Sensical is available now on most major streaming devices. Check it out here.
This article was originally published on