'Scrooged' Is a Christmas Movie Train Wreck You Can't Believe Exists
Let's unwrap the depravity of the Bill Murray classic. Does it hold up?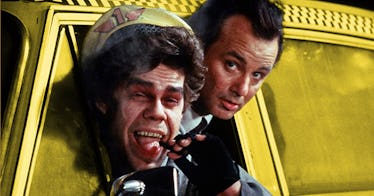 Paramount Pictures
Scrooged is one of the strangest Christmas movies ever made, a sleigh wreck of a holiday movie that you can't just drive by. Nope, you've got to stop, borderline obsessively survey the damage, and marvel at all the things that don't make sense. Namely: How did the 1988 contemporary take on A Christmas Carol ever get made? Does the mix of heart, violence, cheer, crass commercialism, just end up feeling cheap? Was Bill Murray serious with this performance? Remember Bobcat Goldthwait? How is there so much violence? Why are there so many cameos in the cast?
There's a lot to unpack, or er…unwrap when it comes to this bizarre, slightly improbable film So, let's get into it, and discover once and for all — does this '80s cult classic hold up? Or are our memories of it just permanently Scrooged? Let's find out.
The Story
The crankiest, cheapest, and most selfish bastard on the planet, TV production executive Frank Cross (Murray) goes all out to stage a live, all-star version of A Christmas Carol… on Christmas Eve. He's bitter and unsympathetic, a jerk to the assistant, Grace (Alfre Woodward), whose young son Calvin (Nicholas Phillips) is mute, and to his brother (Brian Doyle-Murray), and can't be bothered paying attention to the one person who ever truly loved him, the saintly homeless shelter worker, Claire (Karen Allen). Enter the decrepit spirit of an old boss/mentor (John Forsythe), who warns Frank to expect visits from three ghosts. And thus he meets the Ghost of Christmas Past (a high-energy taxi driver played by David Johansen), the Ghost of Christmas Present (a manic dancing fairy played by Carol Kane), and the gruesome Ghost of Christmas Future (realized mostly by visual effects).
The Unexpected
Scrooged is some bonkers shit. Johansen was clearly drinking gallons of the 80s equivalent of 5-Hour Energy before each take. Kane's fairy is a twisted sister, and when she pulls Murray's lip or bashes him with a toaster, she apparently really did so, much to Murray's dismay and actual physical pain. Michael J. Pollard appears as a homeless man whom Frank initially ignores. Later, the character turns up very, very dead. It's a jarring moment, but important, as it nudges Frank toward reclaiming his humanity. The scenes with Frank's brother are funny and sad, but also touching when he can't help but defend Frank. But what makes many people either love or loathe Scrooged is the Goldthwait factor. There's likely no character in movie history louder than Loudermilk, and Goldthwait, er, milks it for all it's worth, screeching his lines, widening his eyes, and transforming an initially likable if annoying character into a rifle-toting, desperate and murderous madmen. For better or worse, Goldthwait goes there. Murray spends much of the movie trying to shout louder than Goldthwait, also for better or worse, particularly in their scenes together. Over the years, in interviews, Murray has said that director Richard Donner wanted him to take things to the next level, which he did, and that Donner used those next-level takes. Did we mention that Richard Donner directed the first Superman movie in 1978? (And a cut of Superman II?)
The Cast (and Cameos)
At least a dozen unexpected faces pop up throughout Scrooged. The great Mabel King and Robert Mitchum assume small supporting roles, but most of the surprises come as moviegoers watch amusingly out-there coming attractions for productions from Frank's network, as scenes unfold of the streets of New York, or during the staging of A Christmas Carol. Among those appearing include: Jamie Farr, Paul Shaffer, Lee Majors, John Houseman, Miles Davis, David Sanborn, the Solid Gold Dancers, Robert Goulet, Buddy Hackett, Mary Lou Retton (as Tiny Tim!) and Pat McCormick. Anne Ramsey, from The Goonies and Throw Momma from the Train, and her husband, Logan Ramsey, turn up as a homeless couple. Anne Ramsey and Houseman both passed away before the film opened, and with Solid Gold having been canceled, the Solid Gold Dancers, performing here as the Scroogettes, made their final appearance together.
The Speech
Frank's experiences with the Ghosts – which include a disturbing sequence in which he's cremated while still alive – bring him to his senses just in time to share his new zest for life with the millions of people watching A Christmas Carol live at home. That leads to an epic 10-minute sequence in which Frank almost out-screams Loudermilk as he implores everyone to live, give, listen, look around, and to lend a helping hand. "For a couple of hours out of the whole years, we are the people that we always hoped we would be!" Frank says breathlessly of Christmas Eve. "It's a miracle!" Hearts melt. Claire races to the IBC Television studio to reunite with Frank. Ghosts smile and wave. Grace's son speaks. And everyone starts to sing "Put a Little Love in Your Heart," which features a sweet shot of the Ramseys together and a fourth-wall-breaking bit in which Murray urges moviegoers to sing along: "Let's hear it from this side of the theater!" Also, pay close attention for a quick reference by Murray to another cult favorite movie, Little Shop of Horrors, the last film he'd made before Scrooged. But back to the speech. The film hinges on it. Murray somehow pulls it off, using his trademarked scoundrel-y, playful charm to transform a despicable character into a guy the audience can root for and like.
"Put a Little Love in Your Heart"
Moviegoers actually get to hear "Put a Little Love in Your Heart" twice in Scrooged. First, it factors into the end of the movie, with the cast and crew singing the tune. Then, as the credits roll, we're treated to a full-on, lush version of the song as performed by Annie Lennox and Al Green. Music connoisseurs will recall that Jackie DeShannon sang and co-wrote the song, which hit #4 on the charts back in 1969. The Lennox-Green duet rose as high as #9 on the U.S. Hot 100 chart in early 1989 and reached #2 on the U.S. Adult Contemporary.
Arguably, the only problem with "Put a Little Love In Your Heart" at the end of the movie is that Murray doesn't really attack it that signature Bill Murray way, that he does with Elvis Costello in the karaoke scene in Lost in Translation. Still, without this film, could we have ever gotten to the contemporary Bill Murray we have now? It seems unlikely.
Scrooged is available to rent or buy on iTunes, Vudu, Philo, YouTube, Amazon Prime Video, Google Play, and elsewhere.