Former 'Urban Cowboy' Scott Glenn Likes Being a Grandpa — And Playing One, Too
He's still got the right stuff.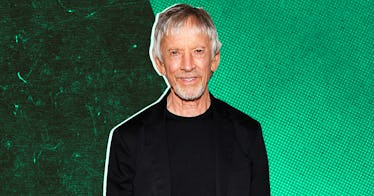 Getty
How is our favorite Urban Cowboy holding up? Turns out, pretty damn well.
So versatile, experienced, and in-demand is Scott Glenn that over the course of his career, currently in its seventh decade, he has played good guys, villains, bosses, heroes, working-class types, young men, dads, and, yes, grandfathers. Among his 100-plus film and TV credits are such classics and hits as Apocalypse Now, Urban Cowboy, The Right Stuff, The Hunt for Red October, The Silence of the Lambs, Backdraft, The Virgin Suicides, Training Day, Daredevil, The Defenders, and The Leftovers. Glenn, who will turn 82 in January, is currently on view in Greenland, an engaging disaster film that follows the plight of John Garrity (Gerard Butler), his estranged wife, Allison (Morena Baccarin), and their young son, Nathan (Roger Dale Floyd) as they race the clock to reach safety as a planet-killing comet hurtles toward the Earth. The film, which premiered Friday on VOD, also features Glenn as Allison's widower father, Dale, whom the family visits along the way.
Fatherly recently caught up with Glenn for a revealing Zoom call in which the actor discussed his prolific career, explained why he signed on for Greenland, and confirmed that his favorite role of all is real-life grandpa. Here's what he had to say.You made your TV debut and Broadway debut in the same year, 1965. The TV show was The Patty Duke Show, and the play was Impossible Years. How surreal is it that you're at 55 years and counting? It's just frightening. No, I feel so fortunate to have got one job, let alone having been permitted to have a life full of, because of more good luck than anything else, a lot of great films. I'm sitting up here in Idaho, still looking for more. You're still working steadily. At this point, what makes you say yes or no to a project? Years ago, it was a combination of money, paying the rent, and just getting the work. There was a time in my life when it felt like turning down anything was just the wrong move, because it was limiting my experience. Now, it's a matter of appetite. You walk in the kitchen, you smell something cooking, and it makes you salivate and want to sit down and eat — or throw up and leave the room. It's probably just about as elemental as that right now. The reasons can change, but the first impetus I have is not an intellectual one at all. It's just a matter of appetite. Something draws me to it. If that happens, then I'll investigate further and think, "Well, what is it about this…?" I remember when I was offered Stick in Daredevil. Marvel/Disney, that whole conglomerate, got a hold of me and through my agent said they'd like to talk about playing Daredevil's mentor in an upcoming TV series. I got stupidly so angry. I went stomping out of the house and went on a very steep, hard hike where I almost blew out my knees, thinking all the while, "Goddammit, why are they sending me this? I'm going to play some old guy that sits behind a desk who sends the kids out to have all the best work as actors, all the best work physically?" Then I got home from the hike and the script was waiting. I went, "Holy shit, this guy is a blind assassin. There's so much going on." I said yes. What made you say yes to Greenland? They sent me the script and it was one of the best written, certainly, disaster films I'd ever read. It felt like it had real heart. In the face of this looming international disaster, it was as much about the really important thing you can do under those circumstances, which is make sure your family is whole and safe and loved and together, that they're going to survive. I talked to (director) Ric Waugh and he said basically the same thing, a lot more profoundly. This film, as far as he's concerned, is about a family that's been fractured, and needs healing in the face of a disaster that's threatening the whole human race. Now, at the time when we made the film, none of us had ever heard the term coronavirus. Now the film is coming out, and…It's very timely… It's very timely. Hopefully, what the virus is, and what it'll do that's positive, is make us understand we're all part of one family. It's a single species called the human race, because this virus doesn't care what shape your nose is, or what color your skin is, or how much money you've got. All it wants is a human respiratory system and two lungs, and it's in business. At any rate, that's the resonance this film has now when you look at it.Dale is a supporting role, but pivotal. I know it's called acting, but how tricky is it for actors to convey that sense of a bond, especially when they're supposed to be playing family, and you've got limited time and dialogue?You use your own life to give resonance and echoes to anything you do. The most critical relationship I have in the movie is with my grandson. Well, I've got three granddaughters and a grandson. I remember when my mom was alive, she talked about how great it was to have grandkids. I said, "Well, what's so great about it?" She said, "You're going to have to have your own to really understand this, but essentially grandkids are all dessert, no dishes." I wanted to bring that right away to my relationship with the kid; to be a safe, loving, fun place for him. I could move the script around a little bit to focus on him. Ric allowed me to do that. The other thing I liked about the script was my relationship with Gerry, which is at the end of my section of the film. (SPOILER AHEAD) I'm convinced he is the right guy to be with my daughter and grandson, and he will take care of them, that he is a man of compassion and honor. But I've got to push him in order to see that.How did you enjoy working with Morena and Gerard, and especially the boy, Roger?Morena and Gerry were generous, fun to work with. When I started acting, it was an old bromide: "Watch out working with kids or animals." It turns out I love working with kids and animals. The reason that saying exists is because they're unpredictable. You don't really know what the dog is going to do. You don't really know what that little kid's going to do. I love that. As it turned out with Roger, we liked each other, and we just started playing right away. I tried to keep that alive off camera as well as on. If, in real life, the world's coming to an end, would you go with the family or you stay in your house and let what happens happen? No, I'd go to the family. Really? Yeah. Having said that, my wife's alive. We've been married for 52 years, something like that. The guy in the film is in a much different set of circumstances. I think I would've gone with that family, had I thought they really needed me to be there. (MORE SPOILERS AHEAD) Once I felt secure they didn't, it was better to have one less person in that vehicle; give them my truck with enough gas to get to Canada, give Gerry my rifle, and wait for the end, because the way I saw the character, I saw myself at the time, was whether I die today or 20 years from now really doesn't make much difference. The real emotional payoff in my life is gone. The rest of it is just treading water. That's the only idea I had in the film; I hope it worked.What's it been like for you to go from being the young stud, then the dad, to playing grandpas? I wake up in the morning and I am who I am with whatever my life experiences are, up until this morning. That's who I accept that I am. I'm not really big into looking back over the span of my life, or reminiscences. I write poetry when I'm not acting. I remember I wrote one poem that began, "If you're going to have nostalgia, make it for the future."You are an actual granddad. Is that your favorite role?It is. I'm in Ketchum, Idaho, up here in the mountains. My youngest daughter, her husband, and two granddaughters are up here; one four years old, the other 11. They're my heart. They've got a place about a mile south. The bad news is right now when Carol and I see them, it's wearing masks and we can't run over and hug them and all the normal human things you want to do. I'm sorry my other two grandkids are in L.A., and can't be up here with us.What else do you have going on?I pretty much have finished a book of poetry. Now I need my editor to get together, she and I. I don't want to do it socially distanced, with a mask on, reading this stuff. I'm going to have to figure that out, one way or another. Then I've also been working on a screenplay of something that'll probably never be made. But I have to do it anyway… So, I'm doing that and trying to stay healthy and fit and ready to work whenever the opportunity comes along.
Greenland premiered December 18 online on VOD. Check out the official site here.
This article was originally published on