Elizabeth Olsen Says Scarlet Witch's Retro 'WandaVision' Costume Is "The Greatest Thing"
The throwback comics-accurate costume almost didn't happen, until Elizabeth Olsen insisted.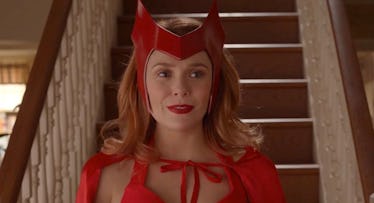 Credit: Disney/Marvel
In an upcoming episode of WandaVision (we actually don't know which one) Wanda will finally don her famous Scarlet Witch costume from the actual Marvel Comics. Although Wanda Maximoff is known as Scarlet Witch in the comics, Elizabeth Olsen's character in the Marvel Cinematic Universe, mostly just goes by Wanda. Some of this had to do with legal stuff — back in 2015 in Avengers: Age of Ultron, certain aspects of Wanda's backstory were connected to the X-Men comics, which, at the time, were controlled by 20th Century Fox. (Psst Wanda was Magneto's daughter in the comics!)
But these days, Disney and Fox are the same company, which means an eventual big-screen Avengers and X-Men crossover is coming. (Some fans even think Magneto or Professor X could show up in WandaVision!) In the shorter term though, it means that Wanda and Vision will cosplay as "themselves" in the new series. But, in order to get into that red costume with its bonkers headdress, Elizabeth Olsen had to fight to make sure the costume was super-accurate.
Speaking to the Vanity Fair "Still Watching" Podcast, Olsen said:
"I was so excited! We have a Halloween episode and they were trying to figure out how big of a nod to the character we were going to do and it did start off with the classic Scarlet Witch costume. It was kind of like a gypsy thing that has to wear a headband and I, like, fought for it. I was like 'No, we have to go full into it…this is like the greatest thing, if Paul's [Bettany] doing it, I'm doing it.'"
So, there you have it! If it weren't for Elizabeth Olsen, we wouldn't be getting a comic-book accurate Scarlet Witch! Now, we'll just have to wait and see if she stays in that costume.
Here's when every episode of WandaVision will drop on Disney+.
This article was originally published on