Watch the 4 Best SNL Sketches From Kieran Culkin's Hilarious Episode
'Saturday Night Live' is having its best season in years and that hot streak continued over the weekend.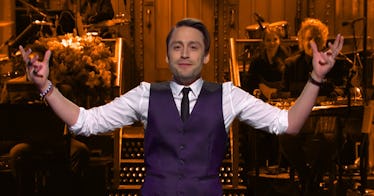 Saturday Night Live has been on a roll this season, delivering one of the strongest opening stretches of episodes in years and that continued last night with former child actor turned Succession star Kieran Culkin taking on hosting duties. Here are five of the must-watch moments from the hilarious episode.
There's a New Trump in Town
The cold open tends to be when the show gets the most political, which is also when SNL is at its most hit-or-miss. The opener started out fine with Pete Davidson doing a passable Aaron Rodgers but the laughs started rolling in once James Austin Johnson officially debuted his spot-on Donald Trump impression as a guest on Judge Jeanine Pirro Justice to give himself credit for Virginia governor-elect Glenn Youngkin's win.
Honestly, it's a shame that Johnson wasn't on the show until now, as his Trump is both scarily accurate and genuinely hilarious. The newcomer nails the former President's patented style of hubristic rambling more than any other impression I've seen and it would have been great to have him on the show during Trump's tenure in office. Regardless, Johnson has established himself as a breakout star in a way that few in SNL history have and it feels like every episode he gets to dominate at least one sketch that will be talked about the rest of the week.
The Monologue
Culkin's cold open was short and sweet, as he talked about how nervous he was about hosting and talking about the strange phenomenon of excelling at playing "one of the top 10 worst humans on TV." The real highlight was getting to see a brief clip of when he previously appeared on the show when his brother Macaulay hosted nearly 30 years ago, as not many families can say they've had two members host SNL.
Cutting Cable
Culkin's time to shine came during a sketch where he played a guy trying to cancel his Spectrum cable. An obvious premise? Sure but getting to see Culkin's growing frustration as he is passed around to increasingly unhelpful customer representatives is something everyone can relate to and the ending delivers a fun escalation, as he ends up speaking with the Spectrum, a literal floating entity (played by Bowen Yang) that forces him to except that when it comes to cable, you can check out anytime you'd like but you can never leave.
Please Don't Destroy
Other than Johnson, the biggest splash of the new hires has come from writing team Please Don't Destroy is quickly making a case that they are Lonely Island's natural successors. They had another hysterical digital short this week that perfectly captured their extremely goofy absurdist style of humor. The premise was simple: John is having a hard time after a breakup and delivers a heartfelt confession to Ben and Martin about how much his ex Angie means to him and the regret he has about the way he treated her. His two pals encourage him to call her and share how he feels but once he's on the phone, things take a ridiculous turn that pokes fun at men's inability to express their feelings.