The Adorable Way Ryan Gosling's Daughters Figured Out He's Mega-Famous
From astronaut to CIA agent.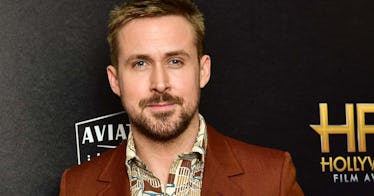 There comes a time in all of our early lives when we realize that our parents are people. Sounds weird, but as kids we don't see them as individuals with lives and jobs. For most of us that means we learn what our parents do for a living, or what they're known for in their friend group. For the kids of celebs, it's a whole new discovery. And for Ryan Gosling's daughter, the way they found out was adorable.
Ryan is super secretive about his private life, which includes his wife Eva Mendes and their two daughters, 7-year-old Esmeralda and 5-year-old Amada. But he gave us a glimpse of his life as a dad in his recent interview. Talking with British GQ, Ryan talked about his daughters and how they "finally figured it out" that he was a well-known celebrity.
The publication pointed out that Ryan's kids are too young to watch any of the movies he's made so far. However, Esmeralda did accompany Ryan when he was on the set of Blade Runner 2049, and she had some struggles "telling fantasy from reality."
Ryan told GQ that his daughter watched him act in the scene where he's in a fight with co-star Harrison Ford. During the filming his daughter shouted, "you're winning," to her dad in the middle of the take. Playfully, Harrison turned to her and asked, "What about me?"
Ryan also shared that when he was filming First Man, the 2018 movie with Claire Foy, that was a retelling look at the life of astronaut Neil Armstrong, his daughters thought that's what he did for work. He said, "his daughters would point to the moon and tell people that's where their daddy worked," GQ wrote.
Even now a few years after that film, Ryan's kids feel like they have his job all figured out. "Yeah. I think they finally figured it out… that my name is actually The Gray Man and I'm an assassin for the CIA," he joked.
The Gray Man is Ryan's next project, reported to be Netflix's biggest-budget film to date, which is set to release later this year.