Exclusive Interview: Russo Brothers on Funny Men, Fatherhood, and Life After Marvel
"When I was behind on an episode of 'WandaVision,' my 14-year-old was mad at me."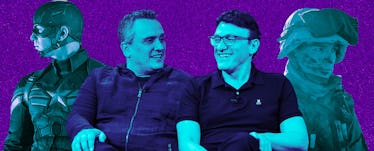 Marvel; Getty; Apple
Are men hilarious? Or are men tragic? If you've watched something directed by Anthony and Joe Russo in the past two decades, the answer to that question will be both. From Arrested Development to Community to the Marvel films The Winter Solider, Civil War, Infinity War, and Endgame, the Russo Brothers have not only directed funny fictional men, but they've also, helped those same fictional men seem tragic. Say what you will about the perceived bombast or dominant market share of the Avengers and their Marvel pals, but part of the reason the MCU is so big is that we simultaneously believe in the quirkiness of Thor and the jerkiness of Iron Man.
"We find men at their funniest when they're self-effacing or when they lack self-awareness," Joe Russo tells Fatherly. "So, either they're incredibly self-aware and funny, because they're self-aware, or they're funny because they have zero awareness. Gob from Arrested Development would be an example. Also, Star-Lord or Thor both fall into that category."
Recently, the Russo Brothers have walked away from the Marvel Cinematic Universe, seemingly never to return. Were they consulted on WandaVision or any other future Marvel project, including The Falcon and the Winter Soldier? "No. I mean look, we had a seven-year process from Winter Soldier to Endgame where we were nonstop telling Marvel stories," Anthony Russo says. "That was a very focused run for us. And it was among the most amazing experiences of our lives doing that, telling those stories. But it was also hard and immersive and a long run. And I think part of the catharsis of making Endgame for Joe and I was the fact that we didn't have to carry the story forward beyond Endgame."
But will they return? "I mean, we may do something with Marvel, again, some time," he says. "Who knows? But, our, our process was to, pass the baton and step away."
In stepping away from Marvel, the Russos have also brought some familiar Marvel faces with them. Just released on AppleTV+, the film Cherry is directed by the brothers and stars Spider-Man himself, Tom Holland. Based on a semi-autobiographical 2018 novel by Nico Walker, Cherry concerns an army veteran (played by Holland) who becomes addicted to opioids following the trauma he experienced in Iraq. This results in him robbing a bank and heading to prison. In short, the movie is not remotely in the realm of a feel-good action-comedy, and for Holland, it proves that he's a lot more than just "the Spider-Man" guy.
Back in 2019, the Russos described the theme of Avengers: Endgame as "the cost of being a hero." Seen from a certain point of view, Cherry is similar, albeit not about superheroes, but instead, about real person, adrift in a drug crisis that Joe Russo points out have "gone fairly unchecked" in the US.
"[Cherry is] a movie about cost. And it's about the cost of the choices that we make in the modern age," Joe Russo explains. "There are many complicated issues that surround us as human beings in the modern age from technology to drugs. This is a drug era that is unlike any other drug era. It doesn't have the romanticism of the hippie vibe culture of the late '60s and early '70s with mushrooms and marijuana and psychedelics. These are drugs that are scientifically engineered to make you addicted. And in addicting they can most likely kill you. So there's a fatalism to this capitalistic endeavor of making these drugs."
As a recent New Yorker piece pointed out, the profit made by unscrupulous corporations is astounding, with the wealthy Sackler family being one of the biggest profiteers of opioids. "The government is acutely aware of this and doctors are acutely aware of it, yet it still gets prescribed," Joe Russo says. "And prescribed in ridiculous and copious amounts. And people recovering from surgery who are never the same again. "
Cherry is fantastic, and for the non-Marvel obsessed, will certainly prove that the Russo Brothers directorial talents far exceeded the Marvel universe or the TV comedies they're known for. It's a heartfelt movie, and tragic, with what Joe calls "a redemptive arc." It honors its source material but also doesn't feel like a depressing biopic. It's not an easy watch, but calling it unflinching wouldn't be quite right either. As Joe says, they're not trying to glamorize what's happening now. In this way, Cherry is like Trainspotting without the hip soundtrack. It's a serious movie about one of the biggest problems facing young people in America and the fact that the Avengers directors made it shouldn't be weird. In almost every way, it makes perfect sense.
"I think it's slightly more complex than, what we're doing with the Marvel characters," Anthony says. "I don't know that he's a hero per se so much as he is a, is an individual who, as a kid who makes one or two decisions that he doesn't have a life experience to make and that costs him 15 years of his life."
After providing escapism across four of the greatest Marvel films, and making us laugh for a decade before that, the Russo Brothers are coming back down to Earth and facing reality. That said, they're still involved with the impending live-action remake of the animated Disney movie Hercules. What will their version be like? The Emma Watson Beauty and the Beast? The recent live-action Lion King?
"Our approach certainly would be to do something more in the category of the male characters who lack self-awareness," Joe Russo says with a laugh. "We're trying to find humor, in that version of Hercules. Something inspired by that film and that brings some of old with it along and bringing something new to it as well."
Both Russo brothers are fathers, and just like us, they're always trying to figure out what to watch with their kids. And also just like us, despite their Marvel backgrounds, they didn't know anything about what was happening on the new Disney+ TV shows.
Anthony has a 14-year-old daughter who is "WandaVision obsessed." For a while, he was behind an episode. "She was mad at me," he says. "But my ten-year-old son loves cooking and he's obsessed with Gordon Ramsey."
"We just finished watching Your Honor," Joe Russo says. "But my kids are older, so you can watch thrillers with them. It's fun."
Cherry is streaming now on AppleTV+