Will We Ever Get a 'Bridesmaids' Sequel? Rose Byrne Weighs In
And even though she's in the new 'Peter Rabbit' movie, her kids aren't impressed.
by Donna Freydkin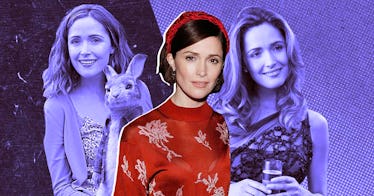 GETTY / Sony Pictures / Universal Pictures
It speaks to Rose Byrne's astounding range that she has two projects opening simultaneously, with about as much in common as cotton candy and steak: She's the upbeat writer in the CGI-live-action hybrid Peter Rabbit 2: The Runaway, now in theaters, and she's headlining the gloriously dark Apple TV series Physical. In one, she's a kids' author loosely based on Beatrix Potter. In the other, she's a seething dangerous housewife with a withering inner monologue that relentlessly mocks her with such bon mots as: "You filthy bitch. Disgusting. You might as well give up."
Byrne, who has sons Rafa, 3, and Rocco, 5, with longtime partner Bobby Cannavale, talks to Fatherly about why her kids don't think she's a star, finding salvation through aerobics in Physical, and whether she's up for a Bridesmaids sequel.
Let's start with Peter Rabbit, which must make you something of a hero to your two boys.
They're so funny. I dropped my little boy at kindergarten yesterday. He's five and change. And all the little kids came up to me — it was so cute. The little five and six-year-olds, you know, a lot of them came up and were like, are you in Peter Rabbit? Do you play Bea? These little Aussie kids and I was like, forget it, they're so adorable. But it really goes over my kids' heads.
They don't know what's going on. They're a little clueless. Not that I care. They're funny. It doesn't register with them at all. They get a little bit confused. Why are you in the TV? I don't want to stress them out too much.
Is it strange promoting it now?
We shot Peter Rabbit 2 so long ago — this was supposed to come out in 2020, right. Before everything shut down. So it's been such a strange — this is the least of our worries, movies and things, but it has been strange, you know? And to finally having it go out to the world, it's quite bizarre, to be honest.
I'm so grateful and thankful that it will be out and people can go to the cinema safely and see a movie. And then, on the other hand, I just finished doing Physical, so that's something that is still kind of creatively leaving my orbit because that wrapped just like two months ago.
In terms of Physical, I am obsessed with the show. It's such a smart, dark take on marital loneliness, desperation, and just sheer unhappiness. But it's also funny and inspiring as hell, especially when she finds herself by becoming an aerobics magnate.
I'm so pleased you watched it. Thank you so much. It's a big thing to do a new show and so really that's so sweet of you.
The voiceover, which is a compelling part of the entire show: Was that difficult to handle as part of the show because she's trashing herself to herself throughout the entire series?
I'm one of those weird actors. I love going in the post-production room and fixing my performance, I'm a total dork and I love that stuff. So for me, it was just an extension of doing that.
I've been telling everyone to watch it and I'm not even part of your press team.
You should be! I'm going to call my agent. I was so arrested by the pilot. The writing, obviously the narration in her head, and you meet her at this breaking point and I was like, 'What is going to happen?' How do we take aerobics seriously as it was her way out? It was such a complex and rich antihero. It's rare to see a woman do that, and you root for her, but she's complicated and she's not necessarily doing the right thing all the time, but she's also incredibly damaged and has this horrible addiction.
Yes, your depiction of her eating disorder was absolutely difficult to watch in the best sense.
She's really trying to find a way out. She can't articulate her ambition and her desires. It was such a privilege to try to represent that and represent someone in the throes of such a horrible illness too.
Being a working parent is tough for everyone. How do you and Bobby figure out who works and who doesn't, given that you have small kids at home?
It's sort of like every working parent, you know? You just accept the schedules are a little harder to juggle sometimes, but because we are both actors as we understand. It's a bit case by case and a little bit what comes our way, what doesn't.
I mean, particularly with the pandemic, it's been very much on the road. Like everyone though, because no one's been in a regular pattern or they have, but they've been at home. We took a lot of time off for work. Bobby went back to work first out here in Australia for the Hulu show with Nicole (Kidman) and Melissa (McCarthy). And (Nine Perfect Strangers was) one of the very first productions to get back up and running. And it's very safe here in Australia.
We're out in Australia and I'm just kind of seeing what's going to come next. We're taking a little break and figuring it out. I miss the theater. I miss the theater so much.
Hollywood is remaking everything and has a case of sequelitis. Would you ever do a Bridesmaids sequel?
It's Kristen Wiig's vision. I'm so honored to be in the film. It's her and Annie Mumolo, who wrote it. I would only ever want to be a part of something if it was with them and with everybody.
Peter Rabbit 2: The Runaway is out in theaters now.
This article was originally published on