The Rock Is One Extremely Intense Soccer Coach
Luke Hobbs only saves the world after his girl's soccer game.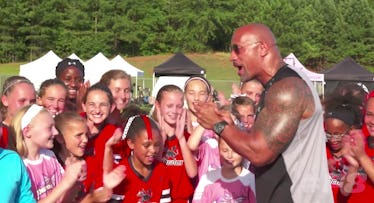 When the camera pulls out of a tight shot on Luke Hobbs (Dwayne Johnson) in the newly released The Fate of the Furious, he's in the middle of an intense speech. It sounds as if he's speaking to new Diplomatic Security Service recruits, but — spoiler alert! — he's just pep-talking his daughter's soccer team, the Red Dragons. Coach Hobbs then leads the girls into a full-blown, intense Haka war cry to rattle their opponents, because of course he would, he's The Rock.
The sweatiest member of the Fast & Furious clan makes for one monster of a coach. The 260-pound actor/former wrestler/eater of cod watches the game with the same intensity he has while hunting down Deckard Shaw (Jason Statham). He cheers on the team. He yells motivational tips. And he sweats so damn much. The only thing missing is a whistle and clipboard.
But this is a Furious film. It doesn't take long for The Rock to receive a distraction and some lengthy disposition on the film's big bad weapon from a forgettable government agent. The Rock, being as much as a super coach as he is super-cop, ignores the "bullshit" and continues to cheer for his little Dragons. His eyes never leave the field and he puts on his wrestler voice to warn the government stooge that if he doesn't cheer the team, he's going to whip ass on the sidelines. Then, Hobbs' daughter, Samantha, scores a goal and wins the game. Only then does daddy have to go to work.
It's a brief scene and the most memorable one that doesn't involve car slaughter. The Rock, a real-life dad, does a great job conveying his conflict in saving the world and making time for his kid. It's a small peak of heart inside a character who's known for quips and ass kicking. Considering how the franchise continues to pump out sequels as they pump on NOS tanks, maybe there's potential for a Luke Hobbs: Soccer Dad spinoff.
This article was originally published on