7 Rock Documentaries To Watch With Kids Who Dug 'Rock Dog'
God gave rock and roll to you.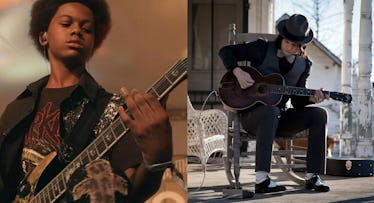 This week, Rock Dog will hit theaters and there's a chance it may be the first time your kid will ever see anyone shred, whammy, and rock out (aside from your epic air guitar solos). That's fine, but wouldn't you rather have your kid receive a real rock and roll primer? You know, instead of learning it all from a Tibetan Mastiff named Bodi (and a Dad in boxers who's a few beers in)?
Rock may not be the best genre for kids to learn how to behave, but when put through the documentary lens, kids can learn inspiring messages from the art form. Here are 7 rock docs you can share with your kids if you're looking to teach them a little history beyond the sign of the horns.
On Netflix
Don't Stop Believin': Every Man's Journey
Replacing the lead singer of any band is like coming home to your kids with a new face. It's unsettling, to say the least. But Journey felt they had to move on without their frontman, Steve Perry, and scoured the world to find Arnel Pineda. This doc follows Pineda's, well … journey from a cover band in the Philippines to lead singer for the legendary band. Now your kids will have a better understanding of why you tear up when you hear she was just a small town girl, living in her lonely world.
Marley
Older kids may think Bob Marley is just that chilled out dude on t-shirts or the universal mascot of weed. But you know he's more than that. Marley tells the Jamaican singer-songwriter's moving story from the people who knew him best: family, friends, and the surviving members of The Wailers. Marley's music influenced the world and made a profound impact on his country all of which is vividly captured in the film. Note: This is a film about Bob Marley, so if you don't think you're going to see weed being smoked or mentioned, then you're probably high.
It Might Get Loud
Jimmy Paige, The Edge, and Jack White walk into a room, talk about how amazing they are, play each other's biggest hits and discuss in detail their love and inspirations for the almighty guitar. It's amazing to see three GOATs shooting the breeze about their day jobs. But it's ultimately cool to see Jimmy Paige (you can tell your kids he's the grandpa of rock and roll) nerd out about old rock records. Note: Loud is available on Netflix through DVD.
Breaking A Monster
This movie isn't a history lesson in rock legends like everything else on the list, but it's firm 101 on what fame can do to a group of kickass teens. Monster follows three kids from Brooklyn who wanted to start a metal band. After performing on the streets of New York City, the kids end up opening for Metallica. It's like Never Say Never, but without all the "I love you, girl!" stuff.
On YouTube
The London Rock N' Roll Show
This concert movie chronicles major acts from rock's early years in the 50s, performing in London's Wembley Stadium, during the 70s. There's not much more than that, but it's a quick way to introduce your kid to Bo Diddly, Jerry Lee Lewis, Little Richard, Chuck Berry and a young Mick Jagger, in color and in one sitting. It's a PG-version of Woodstock with less hippy-boobs and more Great Balls of Fire.
The Last Waltz
Considered as the greatest rock and roll music documentary of all time, Waltz is directed by Martin Scorsese and is The Band's final live performance. With a slew of musical guests joining the show (from Bob Dylan, Neil Young and Muddy Waters) Waltz was really the first to capture a live performance and mix it with interviews with band members and other musicians. If you can get your kid through at least 10 minutes of this, then you'll know they're at least a little serious about rock and roll.
Stop Making Sense
The Talking Heads wanted to make a concert film, but also ditch all of the usual elements you would normally see. The result is a concert with no interviews with bandmates, just a well thought out live performance where the entire thing evolves from a small, simple beginning, to a visually striking stage show complete with a legendary over-sized suit. This is a great way to show your kid how awesome the 80s were even though there was no Wi-Fi.
This article was originally published on