8 Books For Kids Who Are Obsessed With Robots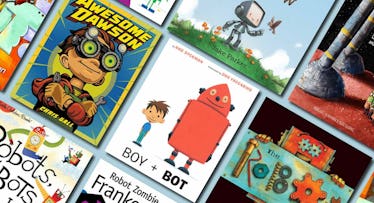 Fads will come and go, but robots are forever (sometimes literally). From Robby the Robot to BB-8, culture loves to humanize cyborgs as loyal companions, so it's no wonder kids are obsessed with them. If yours spends their days with a bucket on their head yelling BEEP! BOOP! BEEP!, then quench that sci-fi thirst with these 8 robot-heavy books (or at least put eyeholes in that bucket). Even if they're not robot crazy, it's probably good to get these in the rotation. Robots are going to take over the world any day now, so your kid should be prepared to welcome their metal overlords.
Awesome Dawson
You know how in Avengers: Age of Ultron Tony Stark tries to create a good robot but ends up creating one that tries to kill the world? This is sort of like that but the genius creator here is a boy named Dawson and the evil robot is a vacuum he created to do chores faster. It's going take all of Dawson's wits to take down the evil sucker. But that's okay because vacuums don't have feelings. Much like Tony Stark when he is drunk.
Age: 4-7Awesome Dawson By Chris Dall ($11)
Robot Zot
Robot Zot is the conqueror of worlds. And it doesn't matter than he's the size of an action figure. Think of him like Joe Pesci in Goodfellas — small but feisty and capable of taking down all in his path. Except fewer fbombs. Zot changes his ways when he falls in love with a baby telephone toy (who could resist that?) and must save her from the evil clutches of toddlers and dogs. In other words, it's your classic villain-turned-hero-saves-inanimate-damsel-in distress story. A tale as old as time.
Age: 3-7Robot Zot By Jon Scieszka ($16)
Robots, Robots, Everywhere!
In rhyming verse and silly illustrations, this book highlights the outrageous places robots can be found (under rugs! between couch cushions! in space!). It will surely make any bot-obsessed kid go on a quest to find some around your house. Hopefully they come up empty handed, otherwise you have much bigger problems.
Age: 2-5Robots, Robots, Everywhere!, by Sue Fleiss ($3)
Robot Zombie Frankenstein
This book asks the age old question: what's wrong with a little dress-up competition between friends? It centers on a pair of robots who become fast friends and try to one-up each other by wearing different costumes including — you guessed it! — Frankenstein and zombies. The book reinforces the worthwhile idea that friendly competition breeds a stronger bond. Unless of course Super Smash Bros. is involved.
Robot Zombie Frankenstein by Annette Simon ($15)
Little Bot And Sparrow
Either you consider a book about robot-animal friendship a heartwarming and inspiring tale, or subliminal propaganda in preparation of the inevitable 'bot takeover. But, your kids will likely enjoy the story of a motherly bird who takes a lost droid under her wing and eventually teaches him to fly. This is how it starts people!
Ages: 3 – 6Little Bot And Sparrow By Jake Parker ($11)
The Three Little Aliens and the Big Bad Robot
It's just like the 3 Little Pigs. Well, except for the fact that it's set in space and there are aliens and robots iinstead of pigs and wolves. And there are planets instead of houses. And there's no huffing and puffing or hairs on chinny chin chin. But this retelling gives kids a guided tour of the solar system as the alien trio journey to take out their robot nemesis.
Age: 4-8The Three Little Aliens and the Big Bad Robot by Margaret McNamara ($14)
The Robot Book
This tactile book lets kids explore what's inside a robot (hint: it's mostly hatred for dirty humans). Through spinnable gears and pop-out columns, the tale cleverly lets readers explore all parts that go into bots and teaches children that the stuff inside is pretty important.
Ages: 1-4The Robot Book by Heather Brown ($6)
Boy and Bot
Boy worries something is wrong when his robot buddy powers down to recharge; robot worries his human pal might be sick when goes to bed. Neither understands the necessity for rest — classic misunderstanding! But it leads to a deeper bond and the sort of magic that made Murtaugh and Riggs a powerhouse duo. And while the idea of a robot watching a little boy sleep might give you the heebie jeebies, its no different than your kid nodding off near a smartphone.
Age: 2-5Boy and Bot by Ame Dyckman ($11)
This article was originally published on