Robert Downey Jr. Won't Say "Never" About an 'Avengers' Comeback
Could RDJ play Tony Stark again?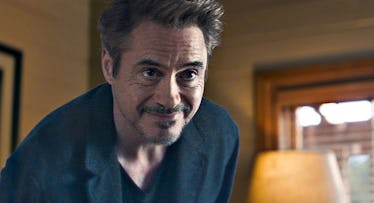 Credit: Marvel
Could Iron Man return for Avengers 4? There's some hope out there! Because Tony Stark left a hologram of himself behind in 2019's Avengers: Endgame, a lot of Marvel diehards have refused to believe that Iron Man has truly died. Around the time Endgame was released, rumors were flying that Robert Downey Jr. had already made a deal to return as Tony Stark in some capacity. But, what does the man himself say?
In a recent interview with GQ — which is actually about Tom Holland — Robert Downey Jr. makes it pretty clear that Tony Stark isn't coming back for WandaVision or Falcon and Winter Soldier and probably not even Loki. After all, despite the epic length of the pandemic, it hasn't even been two years since Tony said: "I am Iron Man" and saved the entire universe by sacrificing himself. (Still not sure he made the right dad move there, but whatever.) The point is, right now, Downey Jr.'s Tony probably won't appear in any new Marve stuff coming to Disney+. Here's what he told GQ: "I have alighted, for now. Real world to save. But never say never."
GQ also notes that Downey Jr. began his answer to the question with a "murmur" of the word "Well." Yeah, we're splitting these hairs! Robert Downey Jr. didn't just come out and say "NO. I'M DONE." He murmured and said, "never say never."
In some circles, that statement feels close to a confirmation that, yes, at some point, Marvel will pull him back in. Perhaps even for Avengers 4 or Avengers 5. Elsewhere in the interview, Downey Jr. notes that he ran into Keanu Reeves, who, of course, is now filming The Matrix 4. Of course, it's been 19 years since Reeves starred in The Matrix Revolutions, but you know, once you upload your brain into a computer, whether you're Neo or Tony Stark, there's always a chance you're gonna come back.
You can read the full profile of Tom Holland and Downey Jr.'s comments at GQ UK.
This article was originally published on