RIP Mark Lanegan: These Are His 6 Essential Albums
Lanegan's sonic influence was all over the map. Here's what you need to listen to now.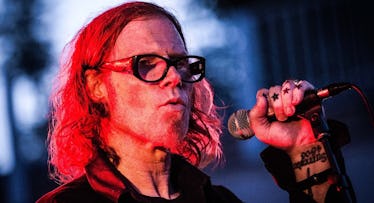 Credit: Nuru/Getty Images
On February 22, 2022, legendary singer-songwriter Mark Lanegan died at the age of 57. The Seattle-born rocker is perhaps most famous for his band Screaming Trees, but if that is your only knowledge of Lanegan's contributions to the world of punk, rock, and all sorts of other musical genres, then you don't know Lanegan. A musical polymath, Lanegan's talents were more varied than most. He was not simply a guy who did '90s alt-rock. That's part of it.
But, his career was much more interesting than just one genre or era. So, as a celebration of his life and great talent, we've created a shortlist of six essential albums, along with some input from our friends at Bull City Records. Where possible, we've included buy links to Amazon below, but we strongly recommend you call your local record store (like Bull City)and try to get your record there, first.
The following list is by no means a complete discography of Lanegan and his various projects, but we do think these albums represent an essential primer to his brilliance.
Screaming Trees: Dust
Pearl Jam, eat your heart out. This album is a classic for a reason.
Mark Lanegan: Whiskey for the Holy Ghost
This album is exactly what the title sounds like, and exactly the kind of album to honor Lanegan's passing.
Mark Lanegan: Field Songs
This is like a classic Neil Young album crossed with Tom Waits, but every song feels brand new.
Gutter Twins: Saturnalia
Either you've heard this album and love it, or you've never heard and don't know what you're missing.
Isobel Campbell and Mark Lanegan: Hawk
This album is unlike any of Lanegan's other work and collaborations. Essential to understand his range.
Duke Garwood and Mark Lanegan: With Animals
There are collaborations and then there's this album. A deep-cut to be sure, but one you won't regret.