RIP: Louie Anderson, a Family Man to the End
We loved Louie. Here's why.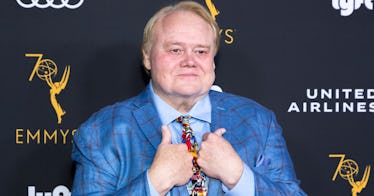 Greg Doherty / FilmMagic / Getty Images
And the laughter stopped. Louie Anderson, the larger-than-life stand-up comedian and actor, died on January 21 in Las Vegas at the way-too-young age of 68. Here's why he was one of the greats.
Anderson spent much of his life career talking about family. He addressed family – his troubled childhood, how relatives came to him for money, his love for siblings and cousins and nephews – in his stage act, in his memoirs, in the television show Baskets, on social media, and especially on the animated sitcom, Life with Louie, which ran for three seasons spread across 1994 to 1998. Anderson grew up poor in a housing project in St. Paul, Minnesota, the 10th of 11 kids with a loving mom and an alcoholic, abusive father. "We all want things that we can't have," he once said. "And I found comedy." Anderson's early act found him in Don Rickles insult mode, but meaner. One night, after a performance, he stepped off-stage and received – and wisely accepted — a piece of advice that changed everything. "A guy named Roman Decare, God rest his soul, he was a comic, (said), 'Louie, if you do that family stuff, and you're a clean comic on stage, you'll become famous,'" he recalled. "And, for some reason, a switch clicked, and I started doing the family stuff, and it became a giant part of my life."In addition to performing stand-up for decades, up until just a few months ago, Anderson proved himself to be a multimedia threat. He wrote four deeply personal books, including Hey Mom: Stories for My Mother, But You Can Read Them Too, Dear Dad: Letters from an Adult Child, and The F Word: How to Survive Your Family. He appeared in dozens of movies and TV shows, including Ferris Bueller's Day Off, Coming to America, the short-lived The Louie Show, and, more recently, Young Sheldon, Search Party, and, his final credit, Coming 2 America. He also hosted Family Feud for three seasons (1990-1992) and was a favorite guest on the late-night talk show circuit, starting with an early break on The Tonight Show Starring Johnny Carson.Anderson really hit his stride courtesy of Life with Louie and Baskets. Life with Louie aired on Fox Kids starting in 1994, and the cartoon 8-year-old version of Anderson touched countless people – impressionable kids and adults who could relate — all over the world with his spirit, perseverance, and hopefulness despite such challenges as his weight and a difficult father (voiced, interestingly, by Anderson himself). Anderson won two Emmy Awards and three Humanitas Prizes for the show. Decades later, he starred with Zach Galifianakis on Baskets, playing the mom – yes, the mom, inspired by his own mother and five sisters – to twins (one of them a failed clown) portrayed by Galifianakis. The show ran for four seasons, ending in 2019, and earned Anderson three Emmy nominations and one win as Outstanding Supporting Actor in a Comedy Series.
Rest in peace, Louie, and thanks for the laughs.
Life with Louie isn't available to stream, but Baskets can be streamed on Hulu.
This article was originally published on