RIP Eric Carle: How 'The Very Hungry Caterpillar' Was Inspired By Carle's Dad
The author and illustrator may not have created his famous caterpillar if it weren't for his father.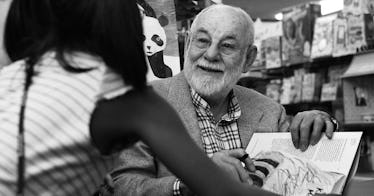 GETTY
Famed children's author Eric Carle has died at the age of 91. Because Carle lived such a long life, this can hardly be described as tragic, even if it is deeply sad.
And, for those who never personally knew Carle, there's one simple and comforting fact; he's permanently immortal thanks to the ever-emerging butterfly who appears at the end of his famous 1969 book The Very Hungry Caterpillar.
As both an illustrator and a writer, Carle's distinct style is recognizable both to the small infant who can't speak and to the exhausted parent reading Brown Bear, Brown Bear for the millionth time. Even if it's just a book he illustrated (like Brown Bear) the calming kaleidoscopic illustrations of Carle are unique and evocative of the rowdiness of actual nature, even if the illustrations are intentionally unrealistic. Carle's versions of animals and plants remind us of the essence of wildlife through a very special kind of artistic whimsy. Even some baby and toddler toys based upon the art of Carle have the same effect. Since birth, my daughter has had an Eric Carle butterfly, which, at 4-years-old, she still adores and readily associates with both the wonderful book and real butterflies.
According to NPR, Carle's career as a children's illustrator and author began around the time he turned 40, but this move was inspired by childhood memories of his dad. NPR reports that Carle said, "I think it started with my father. He took me for long walks and explained things to me."
It's unclear if Carle's dad also told him that hungry caterpillars each cherry pie and watermelon, but for all the parents who tell their children slightly hyperbolic stories about animals on the fly, we really hope so.
The legacy of Eric Carle isn't just in the wonderfully perfect Very Hungry Caterpillar and his other great books (like The Secret Birthday Message), it's also in the knowledge that taking your children on nature walks can quite literally change the world. We don't know exactly what Carle's dad said to him as a child — likely pointing out the delicate little bug eggs, laying sleepily on leaves. But we do know that his dad was there, taking his kid by the hand, gently sharing the world.
The next time you read The Very Hungry Caterpillar to your kid, remind yourself to do what Carle's dad did. After you close the book, take them out into the world next.