Ringo Starr Is Totally Working With Peter Jackson On That New Beatles Movie
This is going to be great.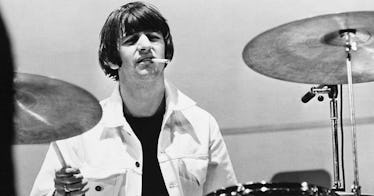 Getty
You're stoked, I'm stoked, we're all stoked for Peter Jackson's upcoming documentary, The Beatles: Get Back. You know who else is stoked? Mr. Peace and Love himself, former Beatles drummer, Ringo Starr, a/k/a Sir Richard Starkey. Get Back – set for release in August – promises to put a very different spin on the sessions and footage that resulted in Michael Lindsay-Hoggs 1970 documentary, Let It Be.
Starr, during a press conference last week to promote his latest EP, Zoom In, expressed his disappointment in the initial documentary and shared his hopes for Jackson's iteration. "Just to put you in the picture, the first time the documentary came out, Michael Lindsay-Hoggs', on the roof was about 7 minutes, 8 minutes long," Starr said. "On the roof with Peter, it's 43 minutes long (laughs). It's about the music and a lot of joy. I didn't feel any joy in the original documentary. It was all focused on – and everybody knows what I mean when I say this — one moment that went down between two of the lads (Paul McCartney and George Harrison), and none of the joy. The idea that we found 56 hours of unused video tells you everything, really."Starr noted that he's been in contact with Jackson, director of the Lord of the Rings and Hobbit trilogies, throughout the process of prepping and making Get Back. He said that the filmmaker quickly came to agree with him that while the recording of the album Let It Be was at times problematic, the original documentary leaned too heavily into the drama between Starr, Paul McCartney, John Lennon, and George Harrison, at the expense of the band's camaraderie and playfulness. "I had several talks with Peter about how I felt," Starr noted. "I thought (Let It Be) was miserable. I said, 'There's lots of laughter. I was there. We were laughing. We were having fun. We were playing and doing what we do.' So, he would keep coming into L.A., because he works out of New Zealand. He'd come over with his iPad and he'd show me sections. He said, 'Look what I found here.' We're laughing. We're having fun as a band… There was a lot of joy in making those tracks. So, I'm certainly looking forward to the whole thing. I haven't seen the whole thing."
Disney will release The Beatles: Get Back on August 27. Right now, it's slated for theaters.