Here's How to Watch the Reboot of 'Reading Rainbow' With Your Kids
'Reading Rainbow' is coming back on air after 15 years – with a new format, new name, and a new host.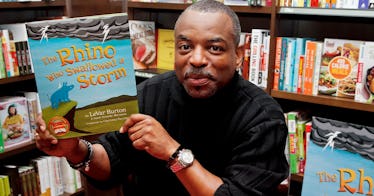 GETTY
The reboot that parents have been asking for is finally on the way. But there are some major changes that mean it's going to be very different from the original. Reading Rainbow is coming back on air after 15 years – with a new format, new name, and a new host.
A Reading Rainbow reboot is officially happening! The original show aired in 1983 and it was hosted by LeVar Burton. The show helped encourage kids to explore and grow their love of reading and imagination. In total, there were 155 30-minute episodes over 21 seasons. The last new episode aired on November 10, 2006, however, re-runs continued to air until August 28, 2009.
The new show, titled Reading Rainbow Live, is going to have a message as the original show, aiming to encourage kids to read. The return of the show has been rumored for some time, but according to creative director Amy Guglielmo, the timing is finally right.
"We know it was a tough pandemic for parents, for caregivers, for teachers. We wanted to make sure that we have kids engaging with books and we're going to use movement and music to engage kids in learning," she told CBS. "And we really want kids to see themselves in the books that we're choosing, and we're going to use diverse creators, authors, illustrators, settings."
Unfortunately, it doesn't sound like LeVar is going to be involved in the new reboot. There hasn't been an announcement yet on who will be taking over hosting duties, and it's likely not going to be one main host like the original. Instead, creators will share the responsibility of hosting the show and teaching kids through "music, field trips, cultural experiences, and the book of the day."
How to watch the Reading Rainbow reboot:
Unlike the original, the new reboot is going to include an interactive component so kids can be fully engaged. Reading Rainbow Live will be "a new take on the basic "someone reads you a story" concept that will "invite viewers into the screen to interact with each other and the program's hosts," AV Club explains.
"Whether they are asking questions of a cast member, following along to a dance routine, or being rewarded for answering a question correctly, viewers will be motivated to participate, and parents will be gratified knowing that their children are being entertained and intellectually stimulated," the press release added.
There's not been an official release date for the Reading Rainbow Live yet, but it's said to be sometime in 2022. Stay tuned!