'Raya' Box Office Means Family Flicks Are (Probably) the Future of the Movie Biz
'Raya and the Last Dragon' didn't make a ton of money at the box office. But it's not all bad news...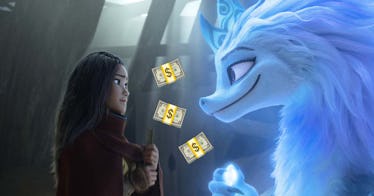 Disney
Raya and The Last Dragon topped the box office charts this weekend with $8.6 million. That's the good news: good for Disney and good for the prospects of subsequent family films as folks start to return to movie theaters with the pandemic seemingly loosening its grip on the nation. However, Hollywood observers and numbers crunchers looked at that same $8.6 million figure and immediately expressed concern.
Why?
Several reasons. Raya – which features the Star Wars actress Kelly Marie Tran as the voice of the titular heroine (Raya, not the dragon!) — is a Disney animated film, and Disney historically rules the animated roost. Early projections assumed a box office take north of $10 million, and Raya fell almost 15% shy of that. Also, Tom & Jerry, which opened last weekend, grossed $14.1 million, which brought joy to the industry, especially theater owners. Compounding the disappointing numbers for Raya is the fact that movie theaters in New York City, the nation's second-largest moviegoing market, reopened after nearly a year, albeit at 25 percent of capacity. Dig deeper, though, and one realizes that Cinemark and other exhibitors in the U.S. and Canada declined to run Raya over skirmishes with Disney related to box office revenue sharing. And on top of all that Raya was available, for $30, to stream on Disney+, though Tom & Jerry opened in theaters and streamed – for free, mind you – on HBO Max. In its second weekend, Tom & Jerry raked in $6.6 million, a mere $2 million less than Raya in its debut weekend.
It's worth noting that while the combined overall box office thankfully jumped this past weekend, no film, for whatever reason, performed particularly well. The long-delayed, very expensive (reportedly $100 million) sci-fi film, Chaos Walking, with Doug Liman directing Star Wars' Daisy Ridley and Spider-Man's Tom Holland, tanked, grossing $3.8 million, a paltry sum even by pandemic standards. So, the silver lining for Raya is this: it's out there for families to enjoy at home or in theaters and, with no major releases landing in theaters on March 12, chances are that it will both retain its spot at the top of the box office and either experience a minimal box office drop or perhaps even a modest boost this coming weekend.In other words, this dragon might still breathe fire.
This article was originally published on