Ranking All the Spider-Men in 'Across the Spider-Verse'
Who is the best of the friendly neighborhood Spider-Heroes we've met so far?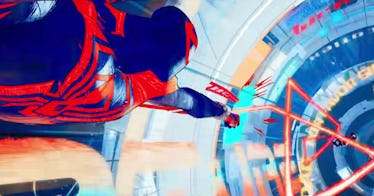 SONY PICTURES
The first trailer for the highly-anticipated Spider-Man: Across the Spider-Verse Part One debuted online over the weekend, giving us a first look at the sequel to the Oscar-winning sequel.
In the trailer, we see Miles Morales (Shameik Moore) listening to music in his childhood bedroom when he gets a visit from Gwen Stacy (Hailee Steinfeld) via inter-dimensional travel.
But these aren't the only two Spider-Folks to appear in the teaser, as Spider-Man 2099 (Oscar Isaac) grabs Miles while he is doing some multi-verse web-slinging. With the introduction of yet another Spider-Hero, here is our current ranking of all the friendly neighborhood Spider-Men/Women/Pigs/etc. we have been introduced to so far.
Note: It's important to remember that this universe has no actual crossover with the MCU (despite mostly unsubstantiated rumors of a potential crossover), which is why Tom Holland's Spider-Man won't be appearing here. Also, Oscar Isaac and Hailee Steinfeld are both members of the MCU — as Kate Bishop and Moon Knight —but play different characters in the Spider-Verse, specifically Spider-Gwen and Spider-Man 2099.
First-up, here's that stellar new trailer
8. Spider-Man (Peter Parker)
7. Spider-Man Noir (Peter Parker)
6. Spider-Ham (Peter Porker)
5. SP//dr (Peni Parker)
4. Spider-Man (Peter Parker)
3. Spider-Man 2099 (Miguel O'Hara)
2. Spider-Man (Miles Morales)
1. Spider-Gwen (Gwen Stacy)
Spider-Man: Across the Spider-Verse Part One will be released on October 7, 2022.