Ranking the 'Jurassic Park' Movies Only By Velociraptor Scenes
The worst movie might have the best raptors.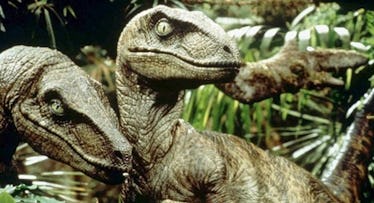 Jurassic Park
Tyrannosaurus Rexes may get all the hype but velociraptors are every bit as essential to the success of the Jurassic film franchise. These vicious, brilliant carnivores are always around to cause a little mischief and eat an unsuspecting human using some advanced hunting tactics. But which of the films make the best use of these infamous dinosaurs? Here is our official ranking of the Jurassic Park films, purely based on their velociraptor scenes.
4. The Lost World: Jurassic Park (1997)
There is a fairly obvious reason the first sequel places last on the list: Velociraptors are mostly missing from this movie. The raptors are unsurprisingly badass and slightly terrifying in the film despite their limited presence – fucking up the InGen team of mercenaries – but the bar for this list is simply too high for this maligned sequel to land any higher.
3. TIE: Jurassic World and Jurassic World: Fallen Kingdom
If Jurassic Park III set the stage for the raptor redemption, the Jurassic World films are where they completed their transformation from villain to hero. And that transformation was mostly… fine. In the first Jurassic World, Owen Grady had been able to develop a rapport with a pack of raptors, to the point where they are able to follow his orders.
Sure, it undeniably rules to get to watch a pack of raptors run side-by-side with Chris Pratt on a motorcycle but watching the raptors bow to the will of a human trainer feels fundamentally wrong (not to mention a far cry from their brilliant tactical skills on display the rest of the franchise).
Even their brief team up with the Indominus Rex doesn't feel nearly as thrilling as it should, as it was fairly obvious they would eventually end up back on Team Owen. We won't spoil Fallen Kingdom by getting into details but Blue's role is basically the same as it was in the first Jurassic World, albeit the ending suggests an exciting future for this hyper-intelligent raptor.
2. Jurassic Park III (2001)
The worst movie in the Jurassic franchise? Maybe, but if you're just looking for some sweet raptor content, Jurassic Park III is right near the top. Raptors are the best part of this otherwise mediocre movie, as the raptors' remarkable level of intelligence and killer instincts are on full display in this third chapter.
The biggest reveal from the movie revolves entirely around velociraptors, as Dr. Alan Grant is shocked to discover that the pack of raptors are able to communicate in a way that is far more advanced than any other species other than humans. It's also the beginning of the raptor rebrand, as it is the first time they don't play the villain role. And while it's technically just a dream, Grant waking up to a raptor calling his name literally never gets old.
1. Jurassic Park (1993)
Was there ever any doubt? Whether they are outsmarting Robert Muldoon or hunting for Dr. Hammond's grandkids in the kitchen, nearly every moment of raptor screentime in Jurassic Park is iconic. Hell, even their offscreen moments – who can forget when the group discovers Samuel L. Jackson's arm – only helped establish the mythos of these vicious creatures.
And with all do respect to the other films, raptors are just more compelling when they are using their intelligence to hunt down humans, as opposed to helping them. And in this movie, they are in full baddie mode. In fact, they likely would have won the movie if it wasn't for that pesky T-Rex conveniently showing up at the perfect moment.
Twenty-five years later, it can be easy for all of us to take the popularity of raptors for granted but so much of what we now know about these vicious carnivores stems from this classic blockbuster. Without Jurassic Park, it's highly unlikely that these clever girls would be a sure-fire first-ballot member of the Dinosaur Hall of Fame.