The 10 Best Robert Redford Movies
Redford is retiring. Here's are his best movies, ever.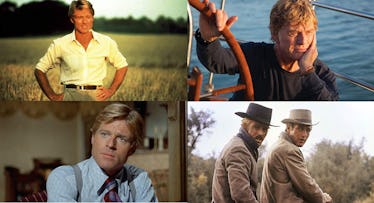 Last week, living legend Robert Redford broke the hearts of dads everywhere when he announced that he was officially retiring from acting. After all, Redford managed to capture the complex and often contradictory framework of modern masculinity in a way that was both undeniably powerful and compellingly vulnerable. But while the 81-year-old may be leaving behind his film career for good, fans can still enjoy the dozens of films he made over his illustrious career that spanned nearly six decades. Here are 10 of the best Robert Redford films that you're going to want to revisit as you say goodbye to one of the great film actors of all time.
10. Three Days of the Condor (1975)
What happens when a CIA analyst returns from lunch to discover that all of his coworkers have been killed as a part of a massive government-wide conspiracy? This bizarre and awesome question is the premise of this espionage romantic thriller, with Redford playing Joseph "Condor" Turner, who finds himself questioning everything and wondering who exactly he can trust. Some of the writing and directing is a bit inconsistent but Redford keeps the somewhat absurd film grounded with a performance that oozes panic and paranoia at every turn.
You can watch the movie here.
9. The Candidate (1972)
In the era of Trump, we are living in a time where everything we thought we understood about politics has been tossed out the window. And for that reason, it seems like The Candidate, which focuses on a joke candidate who accidentally gains some steam in the California governor's race, could feel more relevant than ever. The Candidate certainly has some insightful moments into the shady, cynical world of politics but overall, the film has not aged as well as most of Redford's other classics, as some of the film's political messaging feel a little naive and outdated. But thanks to Redford's earnest performance as Billy McKay, The Candidate remains an enjoyable, if not entirely poignant film.
8. Downhill Racer (1969)
Roger Ebert once called Downhill Racer "the best movie ever made about sports—without really being about sports at all." That statement may seem a bit hyperbolic in hindsight but it is impossible not to enjoy Redford in one of his first true starring roles, as it's easy to see how he was destined to become one of the biggest stars on the planet. Redford plays the role of David Chappellet, champion downhill skier, perfectly, as he is able to keep you cheering for his character on his journey from a talented jerk who only cares about himself and winning to a talented nice guy who puts the team above his own ambition.
You can watch the movie here.
7. Sneakers (1992)
Redford always loved playing a good bad guy and he once again does it here as Martin Bishop/Brice, a "sneaker" who is forced to face off against his old hacking partner after the FBI discovers his shady past. Sneakers definitely will feel dated for the modern viewer but mostly in a charming way and the talent onscreen will outweigh any problems viewers may have with the film's antiquated understanding of the world of hacking. And in a completely stacked cast that includes Ben Kingsley, Sidney Portier, and River Phoenix, Redford manages to stand out.
You can watch the movie here.
6. The Way We Were (1973)
What happens when a Jewish Marxist who lives her life with uncompromising morals crosses paths with a care-free WASP who has never had to make a hard choice in his life? Love, at least according to this film, starring Redford and Barbara Streisand as Hubbell Gardiner and Katie Morosky, two polar opposites who are nonetheless drawn to each other. While Streisand is given the more outlandish part, Redford is able to bring a humanity to Hubbell that makes him impossible to hate, even as his apolitical, lazy, and selfish tendencies cause him to hurt Katie time and time again.
You can watch the movie here.
5. The Sting (1973)
In order for a heist movie to work, the audience needs to be able to root for the conmen (or conwomen) who have decided to step outside the law and play by their own rules. And long before Clooney and Pitt brought their suave star power to the world of organized crime, Redford and Newman did it in The Sting, which focuses two grifters trying to make their own luck at the race track during the great depression. Redford has perhaps never been more fun onscreen than his work as Johnny Hooker, a lifelong hooligan who mostly seems to enjoy stealing things because it's a whole lot of fun.
You can watch the movie here.
4. All Is Lost (2013)
In All Is Lost, Redford isn't just the main actor. He's the only actor and throughout the movie, he only speaks a handful of lines. For most actors, this would be a disaster waiting to happen. Yet Redford doesn't just step up to the plate; he delivers one of the best performances of his storied career as an unnamed man who ends up lost at sea and has to survive with little more than his will to live. With little more than a determined glance or sigh of despair, Redford invites the audience into the mind of a man who is pushed to his limits and it's difficult to imagine anyone else playing this role.
3. The Natural (1984)
Baseball films hold a special place in the pantheon of American cinema and The Natural was one of the first to capture what made baseball America's pastime for nearly a century. Redford is phenomenal as Roy Hobbs, a once-great, over-the-hill ballplayer who makes the most of his chance at a comeback in the minor leagues despite being nearly 40. If Redford didn't have such an abundance of charisma, audiences would likely have realized that this movie is lowkey pretty weird. Remember the part a player dies by falling through the outfield fence? Or when a woman tries to stab Hobbs to death because killing athletes is apparently her kink? Of course you don't, because Redford is just that good.
You can watch the movie here.
2. Butch Cassidy and the Sundance Kid (1969)
These days, this Western classic is mostly remembered for its ending but the entire movie is pretty damn great, mostly due to fantastic performances from Paul Newman and Redford as the titular outlaws. While Butch (Newman) is the undeniable leader of the two thanks to his quick thinking and his fast-talking tendencies, Sundance (Redford) more than holds his own with his slightly more level-headed demeanor. Even as the two are facing certain death, they can't help but riff on the pros and cons of starting life over in Australia.
You can watch the movie here.
1. All the President's Men (1976)
These days, the 'news team uncovers massive scandal' is one of the most reliable movie genres around, to the point where one journalism movie is pretty much guaranteed to earn a few major award nominations every year. But the formula was created (and perfected) in this 1976 film about The Washington Post team that unearthed the biggest political scandal in American history. Redford is simply fantastic as reporter Bob Woodward, bringing a realism and gravitas to the role that ensures the viewers never forget the massive stakes of the situation.
Watch the movie here.
This article was originally published on