'Rambo: Last Blood' Ending: Is There a Post-Credits Scene and Is the Franchise Really Dead?
Sly Stallone has returned to his OTHER famous franchise, but is this the end of the line?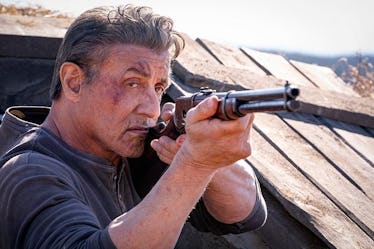 Credit: Lionsgate
The best Sylvester Stallone franchise is, without a doubt, the Rocky series. Even if you don't agree that Rocky IV is the best Rocky (and I'm here to fight about that) nearly everyone can agree that Rocky is an infinitely more interesting idea than Rambo. And yet, here we are, in 2019, and it seems that the final Rambo movie has just been released. What does the ending of this confused murder-fest say about the franchise? If anything?
Spoilers for the end of Rambo: Last Blood ahead.
So, first things first, Last Blood does seem like it's intended to be the final Rambo film of all time. But, because the movie is such a confusing-downer, it's very possible Sly Stallone could come back in a few years and do Rambo: Never, Mind, This Is the Last Blood. The plot is primarily about Rambo taking out a bunch of dudes who are in Mexican drug-cartel. As many film critics have pointed out, nearly everything about this plot seems to play into Trump-esque slurs about Mexico in general. Rambo is pretty much the only white person in the movie — including good and bad people — which is also a little weird, and accidentally fulfills a white savior complex that is uncomfortable AF considering Rambo's origin story is steeped in the Vietnam War.
Unlike previous Rambo movies, the violent scenes of revenge are less satisfying in Last Blood. I really want to tell hardcore Sly Stallone fans that it's worth seeing Last Blood just for the nostalgia of watching Rambo kick-ass again, but I can't actually say that. The movie is a sort of sad, and not in a good way. Will the film satisfy hardcore Rambo fans? Maybe. But, I'm not sure hardcore Rambo fans even are a thing.
One thing is for certain, the movie doesn't really seem like it's trying to set-up a sequel. The screening I attended did not have a post-credits scene, and the film does not leave you wanting more. Which is really a shame. Latter-career Stallone movies are sometimes great. From his excellent turns in both Creed movies to crazy buddy-action-movies, like Escape Plan (which he did with Arnold Schwarzenegger) it's not like Sly can't make a great action flick these days. Sadly, this final Rambo just isn't it.
Plus, where's the headband?
Rambo: Last Blood is playing now.