'Queer Eye' Is Giving Men's Mental Health a Makeover
The Fab Five are helping out a single father and, perhaps, all of us.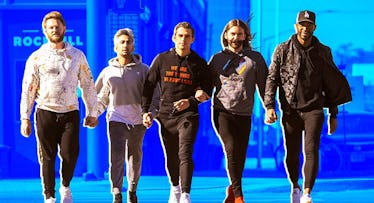 Netflix
The way men and fathers talk about mental health in the zeitgeist has long been in need of a makeover. So when the Fab Five from Netflix's Queer Eye visited single dad John Stoner, struggling with depression in Kansas City, Missouri, they knew where to focus their help. Yes, the Five taught Stoner a recipe, gave him a new haircut, cleaned up his wardrobe and upgraded his house, but most importantly they engaged the dad on his mental health. And while addressing male depression can't lead to a tidy, tear-jerking reveal at the end of a 40 minutes episode, getting Stoner to acknowledge he needed help was probably the most important things the Fab Five, and specifically defacto counselor Karamo Brown, have ever done.
The fact is that middle-aged men like Stoner are struggling. That struggle has become more acute every year and the data is heartbreaking. Older men are experiencing a drastic increase in reported depression and suicide according to the National Institute of Mental Health. In 2017 men died from suicide at a rate nearly four times higher than women in the United States. Moreover, the suicide rate in men has been on the rise over the last decade. And while women are two times more likely than men to experience depression, according to a recent study in the Journal of the American Medical Association, men are far less likely than women to seek help.
As we meet Stoner in episode four of Queer Eye's newest season, we see a man who is clearly in the depths of a mental health crisis. His daughter, 10-year-old Lucy, nominated her father for help largely due to symptoms of his ongoing depression: he stays in bed, he's become increasingly isolated and quiet, he has lost his motivation, he's become neglectful of his health and he rarely leaves the house even to support his bright, figure-skating daughter. Stoner's ex-wife, who is a friendly and helpful co-parent, chalks his behavior up laziness or a kind of manchild regression. Meanwhile, poor Lucy is left to care for her dad and fend for herself.
At the heart of the issue is Stoner's inability to communicate about his struggle with those close to him. His ex-wife's assumptions are based on his actions, which she does not understand are related to his struggles. Her frustration over his parenting only serves to deepen his isolation. But that's very typical of how men face mental health issues. They often see their depression as a sign of weakness — a weakness they are especially loathed to reveal to those that rely on them.
That's why the most crucial moment is when Karamo Brown sits down with Stoner to talk to him about his mental health. A few pointed questions reveal why Stoner has checked out of his daughter's and his own life. "I haven't been getting as much enjoyment out of things as I used to," he reluctantly tells Brown as his face turns red. But even as Brown names the problem, and even as Stoner notes he's been prescribed medication, he has difficulty naming his mental health problem: Depression. He says he's laid in bed for days in a row. He says it's been difficult just to get up and do anything.
"I don't share my business too much, you know," Stoner tells Brown. "I'd rather just get through it. It's kind of how I've always handled things."
And that is exactly the problem. Not just for Stoner but also for up the 9 percent of men who suffer from depression. They tend to suffer in silence. And the silence only exacerbates the issue. And Brown makes that exact point. Men have to be able to reach out and tell people they trust — people who love them — that they are hurting. Without reaching out, men struggling with their mental health are turning away from important social resources and support that can help make things easier.
When Stoner finally does talk to his ex-wife about his struggles, she is surprised. But more importantly, her support starts immediately. "We can help you," she says. "We're here for you."
The moment is vanishingly brief in the episode, but its importance eclipses Jonathan's campiness, Antoni's pancake cooking, Tan's embarrassment over a lewd suit jacket and whatever Bobby did to the house. Stoner's resolve to be open about his mental health and do the work to address it is the real makeover. And it's one that thousands of men across the country need.
Queer Eye is streaming on Netflix now.
This article was originally published on