'Princess Bride' Star's Viral TikTok Reveals His Dad's Inspiration
"It means so much more to me now than it ever did."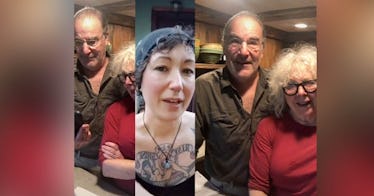 Three decades after its initial release, The Princess Bride remains a movie that is beloved by countless families around the world and a heartwarming TikTok shows just how much the movie still resonates with people on a deep level.
Amanda, who goes by @alaska_webb on the app, shared a video where she talked about her emotional experience with Prince Bride following the death of her father Dan earlier this year. Amanda explains that it was a movie her and her dad loved watching together and that her dad's favorite character was Inigo Montoya, the swashbuckling swordsman who is on a mission to avenge his father's killer.
While on the verge of tears, Amanda says that she heard that Mandy Patinkin, who plays Montoya in the movie, lost his own father and used that real-life pain in his delivery of the iconic line "I want my father back, you son of a bitch" when he finally faces off and defeats Count Tyrone Rugen, the six-fingered man who killed Montoya's father. Amanda said that ever since she learned about the real-life story behind Patinkin's performance, it "always kind of stuck with me."
"It means so much more to me now than it ever did," she said. "And if this ever does reach Mandy Patinkin, just thank you so much for your performance because it meant so much to me and my dad."
Amanda's heartfelt video ended up reaching Patinkin, who posted a duet of him watching her video and then responding to it. The 68-year-old actor was choked up when he confirmed that what she said was "100 percent true."
"I went outside of this castle and walked around the [maze]," Patinkin said. "And I kept talking to my dad and I said, 'Dad, I'm going to get this guy.' From the minute I read the script, I knew, I said to Kath, 'I'm going to do this part.' Because in my mind, if I get this six-fingered guy, that means I killed the cancer that killed my dad and I'll get to visit my dad."
After filming the scene where Montoya finally vanquishes Rugen, Patinkin said that he went outside to talk to his dad again.
"And so you can talk to your dad anytime you want, anywhere you want," he concluded.
If you're not crying after watching that, you may want to check to make sure you have a heart.