How To Watch Premier League Soccer on Peacock
$4.99 a month is your ticket to 175 live matches this season.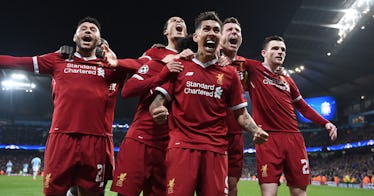 Getty
The Premier League is the reason that bars in the U.S. can pack 'em in early on Saturday mornings, as supporters of England's first division clubs rise before dawn to catch their teams in action. And while it's certainly a good reason to drink beer for breakfast, watching the action from home is the cheaper, easier, and more responsible way to support a team. You're just gonna have to sign-up for Peacock.
Luckily, you don't need an overpriced cable package, VPN, or shady Reddit links to watch Premier League soccer in the U.S. You just need Peacock, the nascent streaming service from NBC that carries tons of live EPL matches.
Here's everything you need to know about watching the Premier League on Peacock.
Which Premier League games are streaming on Peacock?
In its inaugural season as the American streaming home of the Premier League, Peacock will host 175 live matches and full replays for all 380 of this season's matches on-demand, the latter of which will be posted after 9 p.m. ET.
Which devices support Peacock?
Like every other streaming service, Peacock is available on a bunch of different devices. Here are the devices that currently support the service.
A computer running any modern internet browser
Mobile devices running Android 6.0 or later or iOS 11 or later
Smart TVs from LG and Visio as well as those that run Android TV
Dedicated streaming devices from Roku as well as Apple TV boxes and Chromecasts
Game consoles Playstation 4 and Xbox One
Select cable provider set-top boxes from Cox Cable and Xfinity
You probably noticed the Amazon Fire-shaped hole in this list, but Roku was a late addition so hopefully, NBC and Amazon can sort things out soon.
Which Peacock tiers include the Premier League?
Peacock comes in three different flavors: free, Premium, and Premium Plus. The free tier doesn't include Peacock's entire library of shows and movies, and it also excludes live sports. That means you'll need one of the paid tiers in order to watch the Premier League.
The only advantage to Premium Plus over Premium at the moment is ad-free streaming of everything in the Peacock content library. That doesn't include live sports because, well, they're live. NBC has yet to develop time travel technology, sadly.
Premium Plus might be worth it if you're going to watch a lot of non-Premier League programming on Peacock, but the games will be the same no matter which paid tier you choose.
How much does it cost to stream the Premier League on Peacock?
Peacock Premium Plus is $9.99 per month, but as mentioned soccer fans will definitely be happy paying $4.99 per month for the Premium tier. Each comes with a seven-day free trial.
If you're willing to prepay for an entire year, Premium is $49.99 and Premium Plus is $99.99, which basically means you get two months free. Put differently, it's like paying $4.17 and $8.33 per month, respectively.
The Premier League usually lasts nine months, so if you canceled Peacock when the season ended and started paying again when it started up you'd technically still save about a month's worth of subscription fee. It might be easier just to pay for the year and be done with it!