The Best Poop Songs for Potty Training
by Jordan Obey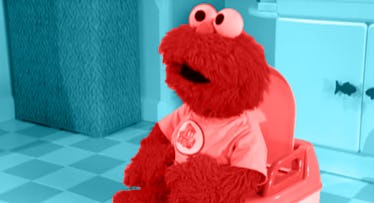 Potty training is the worst. Cleaning poop off of surfaces and repeating instructions over and over again to what seems like no avail can be a lot. But no worries; frustration and tears are normal and inevitable parts of the potty training process. Even though grossness is on the agenda, it doesn't have to be joyless. Potty songs — or poop songs, if you will — can help kids start going to the toilet in the actual toilet. But finding the right poop song for kids isn't easy.
Approaching potty training with a poop song or two will at least make the process slightly less painful. While a potty song by Elmo, Daniel Tiger, or Little Baby Bum (and a corresponding dance) won't magically potty train kids overnight, they will start smiling about it, which is a good step. In that vein, here are some fabulous songs about going number two that we think are number one.
Potty Training 101 Poop Song
Growing Sound's Potty Training 101 Poop Song is a one-stop-shop of poop-related potty training songs. It goes over every step in the potty process without leaving much to the imagination. One of the lyrics goes, "I sit and wait until the poop plops down, then I wipe and wipe 'til brown leaves town." It's safe to say kids are getting a pretty good idea of what they're being asked to do. The song is also pretty short, so it doesn't have the time to get too grating.
Ginneh's Potty Song
In 2016, Maryland mom Stacia Wright came up with a plan to help her then 2-year-old daughter Ginneh get potty trained. Having already gone through the potty-training process with Ginneh's older brother, Wright knew what she was in for — accidents, lots of accidents — and wanted to make training fun for herself this time. So this musical mom whipped out her composing chops and wrote a simple song for Ginneh to listen to while on the toilet, along with an adorable video.
Elmo Potty Time
Children trust Elmo. Therefore, they will embrace any potty song he releases. For some, Sesame Street is considered the tried-and-true way to teach kids to do just about anything. In this video, Elmo and his dad walk through the steps of properly using the toilet. The comfort and support in their interaction are absolutely beautiful, and the song they sing together is jazzier than you'd expect. (We promise; it's a lot less annoying than other kids' songs.)
Two Little Hands: Potty Time
This video is so ridiculously feel-good and upbeat you might sing the song to yourself just for fun. The YouTube channel Funtastic TV put together a video seemingly forged by the gods of all things saccharine and cute with a catchy song everyone in the family can sing along with. As an added bonus, the video also teaches kids how to say "potty time" in sign language and how to tell if they need to use the bathroom.
Daniel Tiger: Stop and Go Potty
One reason kids might have trouble with potty training is that they don't want to stop playing. A bathroom break may seem more like an annoying stop to their fun. Thankfully, Daniel Tiger assures kids that it's OK to go and do their business because their toys will still be there waiting for them when they come back.
I Can Pee and Poop on the Potty
Thanks to Kiboomers, your kid can learn to use the bathroom from a folksy, whimsical song with a kid superhero who is great at going to the potty. He can pee, he can poop, and he even washes his hands! There's not a lot more going on in this video, but if you're looking for something quick and easy to explain basic potty training steps, this is the one.
You'll Use the Potty
Leave it to the Sesame Street crew to lay down the truth: We must listen to our bodies. Of course, this point is made in a much gentler and animated tone, but the fact remains that we all use the potty. And if you're a Cole Porter fan, you'll appreciate that this song has the same melody and similar lyrics.
Bear in the Big Blue House
"Bear in the Big Blue House" handles potty training with the same gentle tone as the rest of the show. This song should be approached more as a primer to get kids used to the idea of getting potty trained than an actual instructional song. It's nearly three minutes long but doesn't really spend much time in a bathroom.
Toilet Time is Fun
OK, so the animation in this video is admittedly a little scary: The kid has large eyes that express agony, while his parents' eyes are black, expressionless dots. But the video's heart is in the right place — and it also teaches kids to poop in the right place, which is the bottom line.
Little Baby Bum: Potty Song
Potty training your kid requires a lot of patience and repetition, not only on your part but theirs too. Accidents are going to happen and, when they do, kids might feel ashamed or frustrated. This song from the YouTube channel Little Baby Bum specializes in nursery rhymes, and this tune teaches them poo-poo resilience and to keep trying until they get it right.
CoComelon Potty Training Song
CoComelon tunes are magnetic and can charm a child right into their seat. One of the coolest things about this potty video is that the big brother teaches the baby how to use the potty and to never hold it in. And at the end of the video, their parents celebrate and support the baby's potty progress. Not only is the song catchy, but it shows kids what not to do and that seeking help and asking questions are part of the process.