New Delightful Toddler Series 'Pikwik Pack' is From the Studio That Brought Us 'Paw Patrol'
New episodes are on Disney Jr. now, with more new episodes coming in January and February.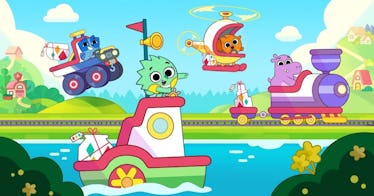 Disney Jr.
Every parent knows that when toddlers find a show they love, it's hard to pull their attention elsewhere. If you're looking for a new source of entertainment for your little one, Disney Jr.'s new show, Pikwik Pack, comes from the studio that brought us Paw Patrol and may just be the show you're both looking for.
The new series, which premiered on Nov. 7, 2020, centers around the "universal joy of receiving a package." We've seen kid show after kid show that honors other essential workers like police, firefighters, and paramedics—and now it's the delivery services' turn.
Pikwik Pack features four animal friends, Suki the brave hedgehog, Hazel the silly cat, Axel the go-getter raccoon, and Tibor the reliable hippo. Together, they work to ensure every package is delivered—whether through land, sea, or air—to the citizens who live in their bright and colorful town.
"Kids everywhere love the thrill of unwrapping a special surprise, and they'll get to experience this joy in each episode of Pikwik Pack," said series creator Frank Falcone. "Parcel delivery is increasingly becoming a central part of families' daily lives. In the town of Pikwik, kids get to witness firsthand the important role that package delivery plays in bringing communities together."
New episodes of Pikwik Pack will premiere in the new year, starting on Jan. 16, 2021, on Disney Jr. and DisneyNOW.
This article was originally published on