3 Surprising Reasons Peacock Somehow Doesn't Suck
A another new streaming service? I know, f*ck that. But hang on a second...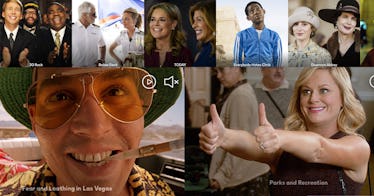 I love saying new things suck and old things are great. It's a knee-jerk condition of all parents over the age of 33. At some point, after you've experienced more than 3000 infant/toddler/preschooler meltdowns, you develop an inner-Larry David, a cynical voice of reason that sort of mocks things mercilessly. It's a defense mechanism, and I understand it. So, with that in mind, I'm going to say something I can't believe I'm saying: That Peacock, the new streaming service from NBC/Universal, is actually not that bad.
Previously, when the news of Peacock was announced, I encouraged everyone I knew to roll their eyes. This feeling of utter exhaustion when it comes to new streaming subscriptions is fairly universal; a recent headline from The Onion read: "New Streaming Service Still Struggling To Come Up With Name Stupid Enough That Public Becomes Furious When They Hear It." Let's face it, when you read that headline you think about Quibi, you become angry that the use of the modifier "Max" in HBO Max is utterly pointless, and you certainly work up some venom about Peacock. The name is annoying and sort of encourages you to think harder about the mascot of NBC (which is a Peacock, remember?) than you ever had before. It's like if Disney+ named itself "Mouse Ears" or Netflix rebranded as "Red and Black." Peacock is trying to piss you off, and yet, I gotta admit, it's not that bad? Here's why.
Peacock is actually free
Yes, there are subscription tiers to Peacock. But the basic plan is free, and you really, for real, do not have to put in your credit card to sign up. You just have to give them your email address. It's fairly painless, and honestly, I was shocked that I didn't have to use the Google auto-fill to put in my bank info. Like, it's a small step, and who am I kidding, I've lost track of what I'm signed up for and what I'm not. But the fact that I didn't have any buyers remorse is saying something. I've seen a few negative reviews of the new shows on Peacock where critics are saying stuff like "yeah this show is worth what I paid for, which is nothing!" And honestly, I think those quotes are hilarious. There's a slick, sexy show with Han Solo and Sybil from Downton Abbey that is legit free? I dunno. I feel like everyone has lost sight of why most people watch TV — to distract us from the crushing terribleness of real life.
The new Brave New World show with Sybil from Downton Abbey and Han Solo is not terrible
Remember when you had to read Aldous Huxley's Brave New World in English class? Yeah, it's okay, nobody does. Spoiler alert, the book also isn't as readable as you might think. But you know what is watchable? The new TV show based on that book. Starring Alden Ehrenreich (your favorite Han Solo) and Jessica Brown Findlay (Downton Abbey). This show is far from perfect, but the best way I can describe it is like this: Imagine watching Westworld or Black Mirror, but instead of hating your life afterward, you kind of just feel like having a glass of wine. That's what the new Brave New World is. It's a laid back sci-fi cautionary tale with a ton of crazy sex party scenes. These scenes are not really all that great, to be honest, but because everybody has mentioned them, I thought I'd mention it. Yes, there's a lot of nudity in this show. But, to me, this is like Logan's Run nudity. It's just kind of happening. It's not the focus. I can't say this show is better than something like Black Mirror, but again, it's new, and it's certainly more watchable and well-paced than you might think.
The library of old shows is pretty solid
Look, I'm not crazy about ads on any streaming service, but, when you consider that both Hulu and CBS All Access have ads, the fact there are ads on free Peacock shows feels fairly tame. In terms of old shows, you can binge, Peacock has 30 Rock, Cheers, Parks and Recreation, Frasier, Murder She Wrote, Saved By the Bell, and, I can't believe I'm saying this…The Munsters.
Is this the most ground-breaking stuff ever? Well, no. But if you want to get a little more serious, I also was able to watch Do the Right Thing for the first time in years, and that was pretty freaking great. So yeah, if I'm just putting in my email address, this feels like a pretty good deal.
It's tough to say if there will ever be a point where I think getting the paid version of Peacock is worth it. If and when they get that new version of Battlestar Galactica, then sure, maybe. But right now, if you need a distraction after the kids have gone to bed, this news streaming service might not be so bad after all.
You can check out Peacock here.
This article was originally published on