It Just Got Way Easier to Stream 'Paw Patrol' and 'Dora'
What to know about the new CBS move.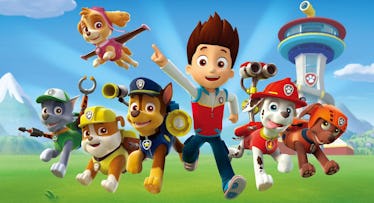 Viacom CBS
The most popular toddler show in the universe is easily Paw Patrol, which is something parents everywhere just have to accept. We don't have to like it, but we do need to know how to watch it with relative ease. So, where can you stream Paw Patrol if you don't pay for Nickelodeon or Nick Jr. on cable? Up until very recently, streaming Paw Patrol for cord-cutters has been tricky. The most prominent way has been by buying a Noggin subscription, which also gives you Peppa Pig. But now, if you subscribe to CBS All Access, you suddenly now have Paw Patrol and a bunch of other Nickelodeon shows. Here's what's going on.
As of December 9, 2020, a slew of Nickelodeon and Nick Jr. kids' shows are now available to stream on CBS All Access. This includes:
allPicard DiscoveryTwilight Zone The StandMission: Impossible, MacGyver,
HBO Max. Paw Patrol. onlyand sign-up for CBS All Access.