Paul McCartney's New Songs Are Shockingly Good
This guy just won't stop.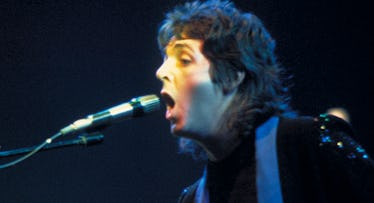 Photo credit: Jim Summaria, 1976. (Creative Commons)
The man who wrote "Yesterday," "Hey Jude," "Band on the Run," and literally hundreds of other songs you can hum by accident is releasing another new album on Friday. At 76 years old, Paul McCartney isn't just continuing to put out music, he's still freaking touring and seemingly defying the laws of nature at the same time. It would be easy to laugh all of this off as embarrassing, trite or out-of-touch, but the thing is, just like the vast majority of his body of work, McCartney's new songs are refreshingly, and legitimately awesome. They're also not challenging, which is honestly a huge relief.
On Friday, Setempber 7, Paul McCartney will drop his 17th solo album since leaving the Beatles in 1969. It's called Egypt Station, and even though only a handful of tracks have been released, pretty much everything on it is great. The reviews are overwhelmingly positive, too. Time is praising McCartney's "boundless curiosity" while Rolling Stone critic and Beatles expert Rob Sheffield calls the album "awesomely eccentric." And the positive reviews are solid, though don't expect any fan of McCartney's to be excited about any boundaries he's pushing. Despite dalliances with Kayne West and indie music producers, Paul McCartney is not someone we listen to for innovation. We hit up a Paul McCartney album to be comforted, not confronted.
And that's what Egpy Station is: a comforting pop-rock album that bizarrely feels both like something out of the 70s, but also, appropriately, straight out of 2018, too. The alchemy of Paul McCartney's longevity and continued relevance is an impressive balance between sounding exactly the same as he always has, but feeling different enough to make us care about the new songs, too. A good example of this is the new single "Fuh You," a song that is just weird enough to make you wonder if Paul is dropping an F-bomb in the chorus, but catchy enough to make you want to listen to it over and over again.
On the same day the new album is released, McCartney will play a free concert in New York City that will be also live-streamed in its entirety on YouTube. And, chances are, if he doesn't play any old songs, you won't be disappointed. The new ones are that good. And best of all, they sound like him.
You can watch the Livestream of Paul McCartney's NYC concert right here. It starts on September 7, at 8 pm eastern time.
You can grab Egypt Station, Paul McCartney's new album, right here on iTunes.
This article was originally published on