Paul McCartney Wants Kids to Live On a 'Green Submarine'
'Yellow Submarines' are so 1966.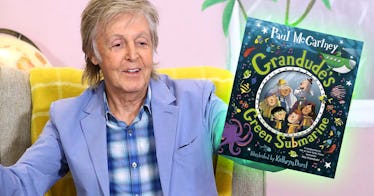 Getty / Random House
All aboard Paul McCartney's Green Submarine!
McCartney, who used to play an instrument or two and sing in a fairly popular band called the Beatles, authored the children's picture book, Hey, Grandude, in 2019. It shot to #1 on the best seller list, with more than 300,000 copies snapped up around the globe. Now, the grandfather of eight has penned a sequel, Grandude's Green Submarine, due out in September. Like its predecessor, Grandude's Green Submarine will be published by Random House Books for Young Readers and feature illustrations by artist Kathryn Durst.
Grandude's inventions are the stuff of legend, and his new green submarine doesn't disappoint," reads the synopsis on the Penguin Random House website. "In fact, it flies as well as submerges! Grandude whisks the grandkids off on another adventure, but he and the Chillers soon find themselves in a pickle. Suddenly, it's Nandude to the rescue! Nandude is an explorer as courageous as Grandude, with an amazing accordion-ship to boot! Between Grandude's magic compass and Nandude's magical music, everyone arrives home safely. But not before enjoying a parade, dancing rainforest animals, and a narrow escape from a grabby octopus. This tale is perfect for little explorers and Paul McCartney fans alike!"
"I'm really happy with how 'Hey Grandude!' was received, as this was a very personal story for me, celebrating Grandudes everywhere and their relationships and adventures with their grandchildren," McCartney said in a statement. "I love that it has become a book read to grandkids at bedtime all around the world. I always said if people liked the first book and there was an appetite for more, I would write some further adventures for Grandude—so he's back and this time with his special invention, Grandude's green submarine!"
Grandude's Green Submarine will rise to the surface in the middle of a typically prolific time for the British icon. He dropped his latest album, McCartney III, in December, and that will be followed on April 16 by McCartney III Imagined, with such artists as Phoebe Bridgers, Josh Homme, Blood Orange, St. Vincent, and Beck covering or remixing songs from the album. Then, on August 27, Disney will unveil the Peter Jackson-directed documentary, The Beatles: Get Back, which will present a wildly different look at the making of the Let It Be album than the eponymous 1970 film did. And, on November 2, Macca will release another book, The Lyrics: 1956 to the Present, which recounts his life and art through the prism of 154 songs from all stages of his career.
Grandude's Green Submarine is available now to pre-order.