Young Deepfake Paul McCartney Dances in Awesome Beck Collab Video
How is young Paul McCartney dancing?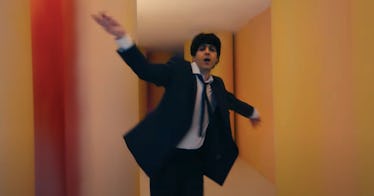 Credit: Paul McCartney
Paul McCartney has cracked time travel. In a trippy new music video called "Find My Way," McCartney has seemingly reverted to exactly how he looked circa 1964 at the start of Beatlemania. Or maybe it's just some rowdy deep fake technology. If you thought Mark Hamill's young Luke Skywalker in the season 2 finale of The Mandalorian was weird, nothing will actually prepare you for this.
In a song that is actually a remix from his 2020 album McCartney III, the new video for "Find My Way" sports a faux-young Paul dancing like, well…Beck. Turns out that, all of this confusing anachronistic action is totally the point.
The music video feels like Wes Anderson used a time machine to stick Beck into Paul's body, and then run the whole thing through a synthesizer they stole from Lando Calrissian.
If you think this music video is weird, just get ready for the rest of the zany Macca train on the entire McCartney III remixed album. Featuring collaborations with St. Vincent, Phoebe Bridgers, and many more, the latest from Sir Paul might not be his greatest (or as heartfelt as some of his more recent efforts like New or Egypt Station) but it is certainly…a new thingamabob from Paul McCartney that we did not expect!
The stand-out track is probably the "Deep Down" remix with Blood Orange, but you make up your own mind!