Patton Oswalt Perfectly Predicted 'Book of Boba Fett' Eight Years Ago
You have to see this to believe it.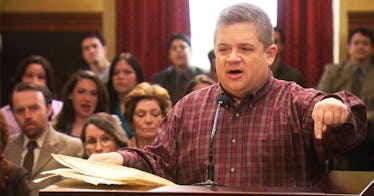 Patton Oswalt just proved he's still king of the Star Wars nerds. Back in 2013, in an epic moment on Parks and Recreation, Oswalt presented an unhinged "filibuster" that predicted what a new Star Wars movie could be like. And in it, he presciently beat for beat described an early scene in 2021's The Book of Boba Fett. Recently, fans noticed this, and paired Oswalt's comments from back then, with the scene from the new show. The resulting video is truly hilarious. Mild spoilers ahead for the first episode of The Book of Boba Fett.
So, if you haven't seen The Book of Boba Fett, it's not exactly a spoiler to say that Boba Fett survived the Sarlacc Pit. Because of The Mandalorian, we already knew Boba Fett was alive, but exactly how he crawls out of that pit is exactly what's revealed in the first episode of the new show.
Which is where things get hilarious. In the Parks and Recreation episode titled "Article Two," (Season 5, Episode 19) Patton Oswalt's character delivers a filibuster filled only with his fan theories for how a new Star Wars film will shake out. In addition to some wild theories about Marvel-Star Wars crossovers (which have not occurred IRL), Oswalt did perfectly describe the way in which Boba Fett returns. Here's what he said back then.
"Pan down from the twin suns of Tatooine. We are now close to the mouth of the Sarlacc Pit. After a beat, the gloved Mandalorian armor gauntlet of BOBA FETT grabs onto the sand outside the Sarlacc Pit, and the feared bounty hunter pulls himself from the maw of the sand beast."
Now, the Podcast Lights, Camera, Pod has posted a short video in which Oswalt's Parks and Rec comments are perfectly juxtaposed with the actual scene from The Book of Boba Fett. See for yourself.
Oswalt gleefully retweeted the video, noting he loves the new show, and implied, yes, they clearly got the idea from him, tweeting, "You're Welcome!"
Naturally, the idea of Boba Fett surviving the Sarlacc Pit post-Return of the Jedi had been floating around for quite some time before The Mandalorian revealed Fett to be alive. However, the nearly exact sequence of short events matching Oswalt's joke is kind of shocking. Did Robert Rodriguez rewatch some Parks and Rec before shooting this episode? We may never know. But, one thing is still clear: Patton Oswalt is a genius.
The Book of Boba Fett airs new episodes on Disney+ on Wednesdays. You can check out Lights, Camera, Pod right here.
And if it's been a while since you've watched that Star Wars filibuster from 2013, here it is in all of its uncut glory.
This article was originally published on