F*ck Yes! 'Paddington 3' Is Finally Coming — Here's What We Know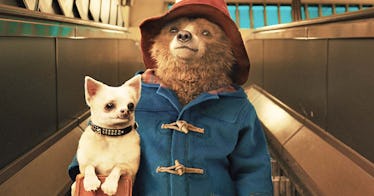 StudioCanal
It's time to break out your best marmalade to celebrate the imminent return of Paddington! The third cinematic adventure of the world's favorite peacoat-wearing bear will begin shooting next year.
Earlier this year, Studiocanal, the production company behind the first two Paddington movies, confirmed to Variety that a third film in the universally beloved franchise is definitely happening.
And now we know that Paddington 3 will begin filming in the second quarter of 2022, which means sometime between April and June next year. Sadly, this also means that the third Paddington film likely won't reach theaters until 2023, but that just means we'll all have plenty of time to rewatch the first two before it comes out.
Beyond that, we don't really know many details about the third film so far. In fact, the biggest news so far is who will not be involved. Paul King, who directed and co-wrote the first two films, will not be directing or writing the third Paddington film, as he is currently working on the Willy Wonka origin film. However, he has not left the franchise entirely, as King is still slated to be an executive producer on Paddington 3, which hopefully means whoever takes his place directing has King's full endorsement.
Paddington 3's script is being handled by Mark Burton, Jon Foster, and James Lamont. Burton has been a longtime writer at Studiocanal, while Foster and Lamont have both written for The Adventures of Paddington television series.
As for the cast, Ben Wishaw is obviously expected to reprise his role as the voice of the titular bear, and Hugh Bonneville and Sally Hawkins will likely return to play Henry and Mary Brown. But beyond that, little is known and, of course, the big question is who will play the third film's villain, as it has become one of the most distinguished roles in cinema, with Nicole Kidman and Hugh Grant playing wrongdoers in the first two films. But based on the past, we're willing to bet they'll be an Aussie or British heavyweight. Could it be… Colin Firth? Colin Farrell? Who is to say. We'll just have to wait and see!
This article was originally published on