'Paddington 2' Deserves a Damn Oscar
Critics may scoff at the notion of a 'kid's movie' winning Best Picture but, seriously, why not?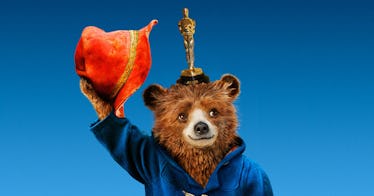 Studio Canal/ Fatherly Illustration
Movie awards season officially hit the home stretch with the Oscar nominations being announced this morning and while there were plenty of wonderful movies getting much-deserved love, we couldn't help but notice one unforgivable snub that will assuredly leave a blemish on the entire ceremony. We're talking, of course, about the fact that the universally beloved Paddington 2 somehow did not score a single nomination.
How is this even possible? We honestly are as bewildered as you are, but rather than focus on the mistakes of the past (Bohemian Rhapsody for Best Picture? Really?) we are going to look to the hope of the future and humbly ask that Oscar voters look into their hearts and do what they know is right by casting their vote for everyone's favorite Peruvian bear. Because while pretentious critics may scoff at the notion of a "kid's movie sequel" winning Best Picture, this antiquated thinking ignores the fact that, in a weak year for film, Paddington 2 was the best and most important movie of 2018.
Before we dive into lamenting Paddington 2's egregious Oscar snub, let's answer the most obvious question: Was it even eligible to win the Academy Award it so clearly deserves? After all, the movie was first released in the UK November 2017, so does that mean Paddington missed his chance at Oscar glory? The answer, thankfully, is no, because Paddington 2 was released in America in January of this year, meaning that the film is eligible for the upcoming Oscars. So now that we know that Paddington 2 can win an Oscar, let's look at why it should.
In 2017, we saw an abundance of phenomenal, critically-acclaimed movies that spanned across a variety of genres, including coming of age (Lady Bird), war (Dunkirk), horror (Get Out), and, of course, fish sex (Shape of Water). This starkly contrasts with 2018, which, to put it mildly, has been a weak year for prestige movies. The typical Oscar bait, such as Beautiful Boy or Green Book, have received solid reviews but none have made any real cultural impact. With Oscar nominations officially announced, there is no clear frontrunner in sight, meaning this is the perfect year for a beloved Dark Horse candidate to snag a nomination and ride a surprise wave of momentum straight to victory.
And when it comes to beloved Dark Horse candidates, there would have been no better option than Paddington 2 because it wasn't just a well-reviewed movie, it was objectively the best-reviewed movie of last year and historically one of the best-reviewed movies of all time. Paddington 2 was declared the best-rated movie of all time on Rotten Tomatoes, earning the highly-coveted 100 percent approval rating from an astounding 215 reviews. It also earned an 88 rating on Metacritic, meaning that critics didn't just passively enjoy Paddington 2 as a kid's movie, they recognized the remarkable quality of a rare movie that appeals to everyone who has the pleasure of watching it.
Right about now is the time where some smug curmudgeon rides in on their high horse and says that while all of this celebration of Paddington 2 is adorable, there's no way in hell a "kid's movie" compares to the transcendent art of true cinema. First off, those jabronis can get bent but also, anyone who dismisses Paddington 2 as child's play is ignoring the fact that the film features sharp social commentary on a myriad of relevant social issues, including Brexit, immigration, and prison reform.
But beyond the good reviews, stacked ensemble cast, and strong political stances, Paddington 2 deserves the Oscar for Best Picture because of its place in the larger social discourse. It's no secret that 2018 was a pretty dark year for pretty much everyone but rather than give into lazy cynicism or selfish defeatism, Paddington 2 features a radical and resonant message of optimism and kindness. Even when the titular talking bear ends up in prison unfairly, he doesn't curse society and stew in his misery. Instead, he chooses hope. He never assumes that life is going to be fair or that the people around him are good, yet he actively chooses to believe in himself and others. Why? Because he knows the only way the world will improve is if he does everything he can to improve it.
So, if any Oscar voters are reading this, we sincerely hope you realize that you made a colossal error by not giving Paddington 2 a vote for Best Picture. It may have seemed like an impossible dream but, just like Paddington himself, we were hoping the film could defy the odds and steal the Oscar just like he stole our collective hearts.
This article was originally published on