'Paddington 2' Just Knocked Out a 1940's Classic to Claim Best-Movie of All Time Status
According to Rotten Tomatoes anyway.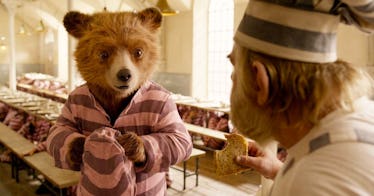 StudioCanal
Paddington 2 may not have won the Oscar it so clear deserved back in 2019 but the universally beloved film got a pretty good consolation prize this week when it managed to overtake Citizen Kane and officially be named the greatest movie ever made, at least according to Rotten Tomatoes.
The 1941 film previously held the top spot on Rotten Tomatoes, as it had a 100 percent freshness rating from critics. However, its immaculate record proved to be a lie, as a negative review by The Chicago Tribune from 80 years ago was discovered, dropping Orson Wells' masterpiece to an embarrassing 99 percent.
Citizen Kane's demotion opened up a spot on the list of Rotten Tomatoes' best-reviewed films and that vacancy was filled by the sequel adventure of everyone's favorite marmalade-loving bear. The internet obviously noticed this change and before long, people were celebrating Paddington 2 taking its rightful place as cinema's greatest achievement.
Paul King, who wrote and directed both Paddington films, acknowledged the achievement but chose to remain humble and even praised Citizen Kane despite it being an objectively inferior film to Paddington 2.
"It's extremely lovely to be on any list, which includes Citizen Kane, but it is obviously quite an eccentric list that goes from Citizen Kane to Paddington 2, so I'll try not to take it too seriously," King told The Hollywood Reporter. "I won't let it go too much to my head and immediately build my Xanadu. But I have been cooking up a model just in case."
Some film snobs may stick up their noses to the notion of Paddington 2 being recognized as the best film ever but like the titular Peruvian bear, we will just ignore that cynicism in favor of celebrating kindness.
While Paddington 2 may currently hold the title of the best film ever made, it could face a challenger when the highly-anticipated Paddington 3 finally arrives.