'Ozark' Season 4: Release Date, Trailer and Plot — Is this the End?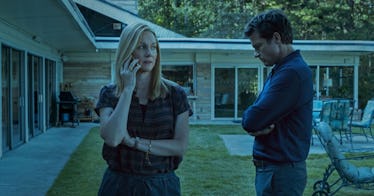 Steve Dietl / Netflix
We've been patiently waiting to find out what's going on with the Byrde family in Netflix's Ozark. Season 3 left us both terrified and impress with the Byrdes and since Netflix announced Season 4 is going to be the final season, we've been more anxious than ever to wrap up the story. If you've not watched the show yet, time to binge, Season 4 is coming and here's everything you need to know.
When is the Season 4 of Ozark release date on Netflix?
There's finally a release date for the long-awaited Season 4 of the Netflix original series that first hit the platform in 2017. The new season is set to come back on Friday, January 21, 2022. It will feature 14 new episodes of the crime drama and the season will be split into two seven-episode parts.
Which cast members are coming back for Season 4?
Jason Bateman, who plays Marty Byrde, is returning as is Laura Linney, who plays his wife, Wendy Byrde. The rest of the Byrde family – daughter Charlotte and son Jonah – played by Sofia Hublitz and Skylar Gaertner – are coming back, too.
Rounding out the cast are the other important characters in the story, including Ruth Langmore (played by Julia Garner), cartel boss Omar Nvarro (played by Felix Solis), Darlene Snell (played by Lisa Emery), and Wyatt Langmore (played by Charlie Tahan).
There will be a few new faces in Season 4, as well, to help drive even more drama.
What's the plot for Season 4?
Of course, we don't know the full storyline of Season 4 for Ozark, but from what we do know, it sounds like it's going to be an amazing season – and a good ending.
"I don't know how they keep escalating the danger without killing us or putting us in jail," Jason Bateman told Jimmy Fallon back in December 2020. "We make as many mistakes as you can without being killed or incarcerated. And we've got more in store for this [season]. We do land the plane in a very satisfactory way," he continued.
Season 3 left us with a lot of questions, so there are plenty of ways the story could unfold.
Is there a season 4 trailer for Ozark?
There have been a few teaser trailers released ahead of the fourth season, but the latest, which dropped January 6, 2022, is our biggest and best look at what we can expect from the upcoming episodes.
"No one gets out clean," the caption reads, which sounds like all the drama we want.
Is this really the final season of Ozark? Is this the end?
Showrunners confirmed that Season 4 is going to be the final one for Ozark. With everything that's left unsettled going into the new season, fans have a lot of theories on where the final season will go. But most of all people just hope some of their biggest "what-if" questions are answered.
There are a lot of loose ends to tie up before the show ends and while there have been some rumors the show might have a similar ending to Breaking Bad, a show Ozark is often compared to, that doesn't seem likely.
The show's lead writer, Craig Mundy, shared that the season might focus on how the Byrdes try to "turn the biggest mistakes of their lives into this huge advantage and how much [will] karma catches[s] up with them."
The new season drops on January 21, 2022, on Netflix.