Netflix Will End 'Ozark' Forever. 5 Reasons to Binge 'Ozark' Right Now
"Sometimes people make decisions, sh*t happens, and we gotta act accordingly."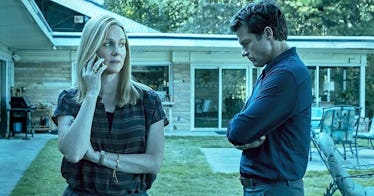 Netflix
All your friends have watched Ozark and now, Ozark is ending. With a million different title options available, between regular cable and all the streaming platforms, it's hard to narrow down what we want to watch when the kids finally go to bed. Should it be Ozark? The Netflix original just announced it's upcoming fourth season was going to be the end and it sounds like it's going to be a good one. Maybe now is a good time to catch-up?
According to Variety, Ozark has been renewed on Netflix for its fourth and final season and it's gearing up to be slightly different from the other seasons. The first three seasons had 10 one-hour-long episodes each, but the fourth is going to consist of 14 episodes total, broken up into 2 parts.
All the regulars are going to be in the final season, including Jason Bateman, Laura Linney, Julia Garner, Sofia Hublitz, and Skylar Gaertner, and each season of Ozark has been more intense than the previous, but the final one sounds like it's going to be insane.
"A super-sized season means super-sized problems for the Byrdes," Jason said. "I'm excited to end with a bang(s)."
Ahem. So, If you haven't watched Ozark yet, there are 5 reasons you should binge it right now, before season 4 hits.
1. The Byrdes are your typical parents, but with a huge twist.
In the first season, we learn that the Byrdes aren't who they seem and the reveal of who they really are will have you on the edge of your seat. The show starts off slow, and Wendy and Marty Byrde seem like the typical boring white couple with two teenage kids who hate everything. Their marriage is boring, their jobs are boring, but when the reveal of who they really are comes out, that boring bubble is burst and everything seems far more interesting.
2. The women rule, seriously.
Marty Byrde may seem like the main character, but the women are really ruling the show. Between Wendy and Ruth, Helen, and Darlene, the show isn't playing with the typical stereotypes. These women aren't shying away from who they are, their characters aren't just to help Marty further his goals, they don't wait for permission to make happen what they want to happen. In the series, you'll watch them take more of the center plotlines and killing it.
3. It's fun to watch their parenting; a mix of hide-your-eyes and nodding your head at the honesty.
TV families are usually shown in sitcoms and those families usually have the traditional roles; 2.5 kids, a dog, a dad who works outside the house, and a mom who stays at home. The Byrde family isn't anything like that and it's fun, as a parent, to see how badly they screw up with their kids, and how they make the most of less than ideal situations. The two teenage kids have grown up faster than they should have, but there is something refreshing about the honesty in this family, too.
4. The show is Breaking Bad, but way better.
If you loved the show Breaking Bad, you'll like Ozark. There are some similarities in the plot lines, but Ozark is so much better. There are more interesting characters and the plots don't seem to replay themselves like Breaking Bad does. If you don't like Breaking Bad, give Ozark a try because while the two shows have been compared to each other, Ozark is in a league of its own.
5. The reviews are really good.
Don't just listen to us when we tell you to watch the show – the reviews are incredible because the show is worth the time.
Ozark seasons 1 through 3 are available now on Netflix and season 4 is coming soon.
This article was originally published on