Star Trek's Oyin Oladejo Says 'Endlings' Helps Kids Tackle Big Issues Through Sci-Fi
Oyin Oladejo thinks the Hulu series, 'Endlings,' is the perfect ecological sci-fi for our children.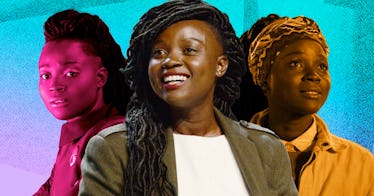 Oyin Oladejo almost didn't become a science fiction star. The Nigerian-Canadian actress landed her galaxy-changing role as Joann "Owo" Owosekun on Star Trek: Discovery right as she considered no longer pursuing a career in acting. "I was thinking of leaving the industry," she says. "But then I got Star Trek." This serendipity led her to another sci-fi project, this one aimed at kids. As Abiona Maina, Oladejo stars as one of the few adults in a kids' show called Endlings, a Hulu series that just returned for its second season on January 15. "Somehow, I ended up in two sci-fi shows at the same time," Oladejo laughs. "But I'm very lucky."
If you're a parent who watches the various new Star Trek series after the kids are in bed, then you know Oladejo as the unflappable Lt. Owosekun on Discovery, always ready to beam down to a planet, or, in the recent Season 3 finale, hold her breath in order to repair the Starship Discovery in a last-ditch effort to save it from hijackers. But in Endlings Oladejo is literally your kids' new best friend. The Hulu show is all about a group of aliens teaming-up with kids on Earth to try and save different endangered animals. Think of it as a low-key Captain Planet, but less corny and actually starring young children. Oladejo's character Abiona Maina, teams-up with the kids to save an elephant. Because the new season of Star Trek: Discovery also had a running them about environmentalism and endangered species, Oladejo says the parallels were not lost on her.
"The first two shows I got as an actor, Star Trek and Endlings have been sci-fi," Oladejo says. "I was not a sci-fi person. I wasn't really exposed to it until recently. But now, I think this is a world I belong in. I feel I wish I had sci-fi when I was a kid. We should start introducing big subjects to kids at an early age. And normalize some of these big issues, so it's part of what they think about growing up. Kids will like the alien or the CGI, but I think Endlings is a fun show that is deep for kids and it's informative. It doesn't come at these big topics from a place of political righteousness. It's just talking to them on their level."
Like LeVar Burton doing Reading Rainbow at the same time as Star Trek: The Next Generation, Oyin Oladejo is fully aware that some kids may follow her from her Endlings and eventually see her on the action-packed Star Trek: Discovery. "The thing is, the two shows are not that far off. It's a different type of sci-fi, but I don't think it's that big of a transition for kids to watch Endlings and then watch another sci-fi series like Star Trek. I think we're still dealing with big subjects — how do you deal with people who have differences. All of those big topics are the common theme on Star Trek and Endlings. It's just packaged differently."
Some of the messages of both shows deal with connectivity in a world in which connecting is difficult, a concept that presciently predicted aspects of the COVID-19 pandemic. Oladejo doesn't think the predictive nature of either show is all that odd and imagines that it's good for kids to see a TV that can end-up reflecting what they're going through in real life.
"Artists are sometimes the ones who can tell us what may be coming in the future," she says. "Star Trek does that in the adult realm, but Endlings does it for kids. As artists, we tap into something else."
Endlings Season 2 is streaming on Hulu now.
Star Trek: Discovery is streaming on CBS All Access.
This article was originally published on