Orlando Bloom's Son Believes His Dad Has Supernatural Powers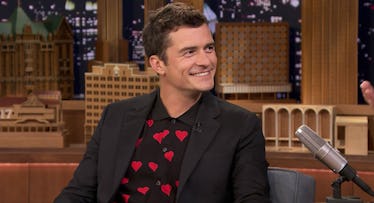 This week, Orlando Bloom visited The Tonight Show to promote the latest Pirates of the Caribbean film, and told a hilarious story about the first time he let his six-year-old son Flynn watch him swashbuckle. Bloom's son, apparently the only person in the world unaware of his dad's role as humble blacksmith turned adventurer, was shocked to see his old man show up on screen as Will Turner. Then he was really impressed. Then he jumped to some outrageous conclusions.
According to Bloom, his son was not only surprised to see his dad pop up in one of the biggest movies of all time, he was also shocked to learn his dad has magical powers. Like most six-year-olds, Flynn believes most of what he sees onscreen to be possible in real life, and so, naturally, he thinks his dad now has the ability to walk on water and hold his breath underwater for supernatural amounts of time. Bloom was more than happy to let his son believe in his slightly exaggerated onscreen abilities.
Props to Bloom for wanting his son to see him as a dad instead of a movie star. And while he will probably have to tell Flynn he's not going to have an oceanic footrace with Jesus, he may want to let his son see him as superdad for a little while longer. Bloom was happy to report that Flynn ended up loving the movie. We can only imagine what kind of shock Flynn will experience when he sees Lord of the Rings or Troy.