How to Stream the Original 'Incredibles' Before You See 'Incredibles 2'
With 'Incredibles 2' coming to theaters this weekend, it might be time for you to go back and check out the original. Here's where you can stream it.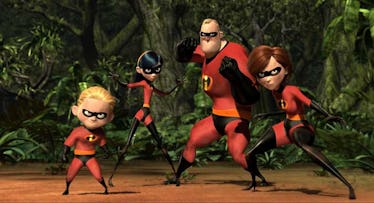 The Incredibles
Incredibles 2, the latest entry into the Pixar canon, heads into theaters this weekend with a flurry of great reviews and a light dash of nostalgia for good measure. But before you head to the theater with your family, you may want to rewatch the original Incredibles, as it's been 14 years since Mr. Incredible, Elastigirl, and the rest of the Parr family established themselves as the best superhero family of all time (apologies to the Marvels).
Unfortunately, The Incredibles isn't currently streaming on Netflix or Hulu but that doesn't mean it can't be found online. You're just going to need to rent it instead. Here is everything you need to know about watching The Incredibles without having to resort to watching pirated versions on YouTube or, even worse, illegally downloading it off a sketchy website. Because nothing ruins a family movie night quicker than an unexpected visit from your local FBI agents.
The original Incredibles is available to rent on a wide variety of platforms, including Amazon, YouTube, iTunes, and VUDU. Which is your best option? The first three are virtually identical options, as Amazon, YouTube, and VUDU all allow rentals for $2.99 ($3.99 for the HD version).
The only real difference? While both will let you watch for up to 30 days after your rental, YouTube will allow users to rewatch for 72 hours after their first watch, a day longer than Amazon and two days longer than VUDU. Renting on iTunes will cost you $3.99, so unless you have brand loyalty to Apple, you're probably better off renting elsewhere.
This article was originally published on