Kevin Hart Will Remake Dan Aykroyd's Dad Masterpiece
Kevin Hart will remake 'The Great Outdoors'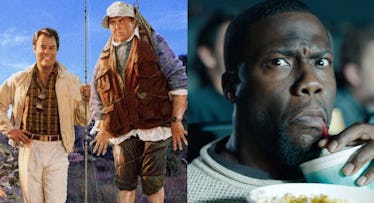 Hollywood's biggest little funny man is about to remake the 1988 John Hughes film The Great Outdoors. An underrated classic, Outdoors is an often forgotten film that may end up being the perfect vehicle for Kevin Hart, who is a real-life father of two and a comedian who — like OG star John Candy — is at his best when exasperated. The film is one of seemingly dozens that Hart has in the works, including the Jumanji remake, but it stands out as a project because it cast him in the role of leading family man. That's the role he's cast himself in as a standup. It suits him.
The Great Outdoors starred the late great John Candy as Chet Ripley, who takes his family to a stereotypical cabin in the woods vacation. All goes well until his asshole brother-in-law Roman Craig (played perfected by Dan Aykroyd) crashes the trip. The movie follows the epic dick measuring contest that ensues. Though not as famous as other Hughes classics like National Lampoon's Vacation and The Breakfast Club, the film is hilarious. It's an over-the-top, kid-friendly takedown of what is now called toxic masculinity. There's a moral to the story, but it's not about that. It's about jokes.
It hasn't been confirmed that Hart will step into the Candy role, but it seems unlikely that he wouldn't given his innate ability to turn umbrage into laughs. That's what he did opposite The Rock in Central Intelligence, opposite Ice Cube in Ride Along, and opposite Will Ferrell in Get Hard (kind of, that one isn't so clear cut). Still, the movie will need a significant update. The original film has scenes of animal abuse and treats the wives and children of the main characters as set dressing .
Outdoors will be the second John Hughes film resurrected in recent year. The first, Vacation with Ed Helms, fizzled at the box office. There's no guarantee that Hart will succeed, but the film has all the right ingredients.
This article was originally published on