This 12-Minute 'Frozen' Prequel Is Better Than Both Actual 'Frozen' Movies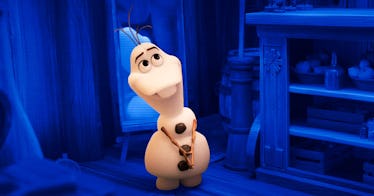 Walt Disney Pictures
One of the biggest problems parents have with most kids' movies is the length. Sure, in a pinch, plopping your kid in front of Frozen 2 can solve an in-house babysitting problem, but it's not like you're getting any real benefits from that screen time if you're not co-watching. Parents, particularly in the COVID-19 era, have a complicated relationship with streaming TV. Sure, your kid might be occupied by Frozen but do you really want an hour and a half of Frozen in your house every day?
In this way, the new Disney+ Frozen-related thingamabob, Once Upon a Snowman is the best combination of all possible forms of kids' streaming media: It's mainstream, it's not awful, and it's mercifully short. It's also funnier than you might expect and seems to turn Olaf the Snowman into a Forky-from-Toy-Story character, which is decidedly more fun than the way Olaf is within the Frozen movies. Admittedly, I've never loved Josh Gad's Olaf the Snowman, and sort of always had him pegged as the Jar Jar Binks of those movies. On top of that, there's really only room for one "Olaf" in my heart, and that's the wicked Count Olaf from A Series of Unfortunate Events. In a world of Olaf versus Olaf, I'm always going to side with Neil Patrick Harris' delusional failed actor, who sometimes quotes from poetry about parents fucking up.
And yet. Once Upon a Snowman has me warming up to Olaf the Snowman. Calling this short film a "prequel" isn't exactly right. It's more of a midquel, that tells us how Olaf thought of himself the moment he was endowed with life right after Elsa started firing off random magic spells. The question of how intelligent anthropomorphized creatures like Olaf can be has long been an easy well of humor for Disney sidekicks, but that doesn't mean this kind of stuff can't still be funny. I'm not sure I need to see an entire series of Olaf's misadventures but has a protracted deleted scene from Frozen, Once Upon a Snowman succeeded in not making want to die, and also, every once and a while, making me laugh.
Best of all, if you have a younger child, and you're eager to dip your toes in the waters of big, popular Disney movies, this might be a way to do that without committing to all of the Frozens. Once Upon a Snowman might begin with "Let It Go," but, the nice thing about this short movie is that it lets go of that epic Broadway-show-stopping feeling pretty quickly. This is just a funny short comedy about a newly self-aware talking snowman. As someone who rewatched the "classic" Frosty the Snowman a bunch last Christmas, I gotta say, Olaf is a welcome change.
Once Upon a Snowman is streaming now on Disney+.