On 'Teen Mom OG', Dakota Meyer and Bristol Palin Lay Their Marriage Bare
While many reality shows turn marriage into a pitched battle between caricatures removed from reality, Bristol Palin and her husband are showing the world a marriage that is truly crumbling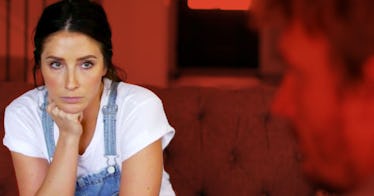 MTV
Reality television leans toward the unreal. Whether the cameras are focused on housewives or Armenian-American sisters, the drama is often obviously contrived. The table-flipping conflicts of Real Housewives and the shade slinging of Vanderpump Rules are cartoonish. There's little danger that the average viewer of those shows will truly empathize with a cast member behaving implausibly in an implausible situation. This is what makes the current season of MTV's Teen Mom OG so striking. The show, a spin-off of their Teen Mom franchise following the now grown teen mothers, has added Bristol Palin. In doing so, it has become a documentary about the dissolution of Bristol Palin's marriage to former Marine and Medal of Honor recipient Dakota Meyer. The show doesn't have villains or heroes. It is deeply sad and the conversations seem deeply felt.
The conflict in the Palin-Meyer house seems to be largely a product of Meyer's mental health struggles. Meyer, who lost five friends and squadmates during the Battle of Ganjgal while personally rescuing 12 soldiers and providing cover for 24 Marines, suffers from PTSD. With trauma comes the anxiety and depression. This has affected both him and his wife, with whom he has two children.
At no point is Meyer's suffering played for drama and at no point does the show trade in dramatic irony. Meyer is keenly aware of the situation and Palin is supportive. These are — or certainly seem to be — nice people. Still, though Meyer admits his mental health has added strain, the cameras capture raw moments where he practically begs Palin for more empathy. And Palin struggles with that ask, feeling victimized when Meyer becomes unmoored. To protect herself, she grows cold. And she admits that.
As Teen Mom OG is a reality show, there are surely misrepresentations and contrived moments. But the relationship dynamic is achingly real — or at least so well portrayed that it's impossible for a married person who has been through a rough patch to not engage on an emotional level.
The stakes are high because of the couple's children. In one episode, the parents struggle to keep brutal emotional arguments in check during a car ride, as their children babble and play in the backseat. In the next episode, they send the kids to watch TV so they can discuss the fact that the most logical solution to their problems appears to be divorce.
"I guess I get that same feeling that I do with my teammates," Meyer tells the camera during the divorce discussion. "I failed again and I'm helpless again. That's the hard part of it because I know where my heart is. I know that I love her and I know that I give her my everything."
Witnessing the demise of a marriage on Teen Mom OG, many parents will be able to recognize themselves. Marriage can be messy. And unlike campy narratives on other reality programs that turn people into caricatures of good and evil, Teen Mom OG shows that in real human relationships husbands and wives can't be easily categorized as right or wrong.
Almost every relationship has been tested in a terrible and stressful way at some point. With Bristol Palin and Dakota Meyer, the test is connected to his undeniable bravery in war. He's a good man. Clearly. But what he experienced makes it hard for him to live in a stable way. For Palin, his difficulties become hers. Because that's how a marriage works. Couples share grief and depression as much as they share joy and triumph. Television viewers rarely see that kind of sincerity outside of scripted dramas.
Which is not to say that Teen Mom OG is better entertainment for its real human drama. It's not. In fact, it's incredibly difficult to watch. But at least, in reflecting real marriage, it helps us understand that the struggles we've had are not unique to us. There's some comfort in that at least.
This article was originally published on