Slept On Obama's New Memoir? Listening to Him Read is Better Than His Podcast
Listening to Obama is good for the soul and even better for the brain.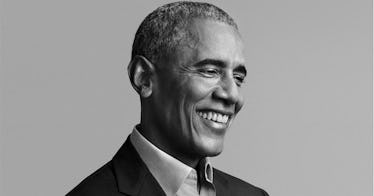 Crown
There's a hilarious scene in Fleabag in which Phoebe Waller-Bridge's eponymous lead character starts watching Obama give a speech on her laptop, and then decides that it's better than looking at porn. In theory, if you identify as a straight male, Obama's oratorical skills might not move you in exactly the same way. But, let's face it, Fleabag was onto something. Just listening to Obama talk is a transformative experience.
If you listened to and loved Obama's recent podcast with Bruce Springsteen — Renegades — I've got news for you, there's something else Obama-centric that you can listen to right now that's even better. And, like Fleabag's laptop scene, this can let you get the power of Obama's sage wisdom on tap whenever you want it.
We're talking about A Promised Land, Obama's memoir, first published back in November 2020, a time so fraught and confusing, it might make sense that you didn't feel like sitting down and reading a thoughtful memoir by the 44th President. But, let me tell you, listening to him read it is freaking great. Yes, there's some legitimately great advice in here — like Obama's admissions that the stress of working so much nearly derailed his marriage — but none of that would matter if it wasn't fun to listen to.
Throughout his Presidency, Obama was frequently compared to the super-rational (but compassionate) Star Trek character of Spock. This compliment still holds up, especially when you listen to A Promised Land. Remember when Spock had kind of lightened up in the later Star Trek movies and was able to tell a joke or two and roast some marshmallows? That's what's it's like listening to Obama read A Promised Land. You get to absorb his intelligence, like listening to Spock, it's also witty and makes you feel geeky cool.
Obama is a politician. Sure. But in A Promised Land he feels like the super-smart dad friend you wish you had. Sitting down and reading his book is good, too. (Can't not recommend sitting down and reading a book!) But, with Obama, the audiobook might be his perfect medium.
You can sign up for a free trial of Audible Premium Plus right here.
From June 1st – June 30th, Audible Premium Plus will be available to customers at 53 percent off – only $6.95 a month for the first four months. Here's how to get the deal.
Every product on Fatherly is independently selected by our editors, writers, and experts. If you click a link on our site and buy something, we may earn an affiliate commission.
This article was originally published on