8 'Tiny Desk Concert' Performances To Watch With Your Kids
From brass bands to Brahms.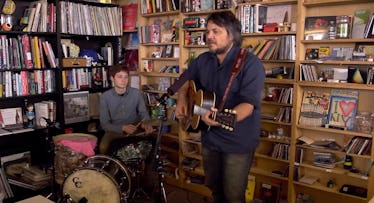 We get it: You want the kids to have music in their lives — but if you hear The Goldfish Song one more time, that fish is gonna fry. NPR's Tiny Desk Concerts are always worth a listen, and now thanks to this list, always kid-friendly. Every week All Things Considered host Bob Boilen brings different groups — from Grammy winning artists to under-the-radar folk duos — to play their cramped office. It's more eclectic than Morning Becomes Eclectic, and more intimate than MTV Unplugged. Everything is stripped-down and played with the bare-bones instrumentation, just the way your preschooler does it at home. Here are 8 performances for your youngest music fan to consider.
Blue Man Group
They're the color of Smurfs and don't speak. What doesn't your toddler love about this? The 3-man show is basically handmade for kids — what with their wide-eyed expressions, visual gags, and atmospheric sounds from unusual items. In this concert, they cart in everything from PVC piping to a Chapman stick to wow the crowd of NPR reporters. Expect banging on every available surface to ensue after this.
Joshua Bell & Jeremy Denk
They say that classical music makes kids smarter. So, sit them down and have them watch this duo go HAM on Brahms. Violinist Joshua Bell and pianist Jeremy Denk, who've played together for years, perform snippets of the German composer's pieces with an intensity and lack of stuffiness that's sorely lacking from Lincoln Center.
Alessio Bax
This performance is a family affair. Pianist and new father Alessio Bax performs a few Bach lullabies as his 22-month-year-old daughter, Mila, sits by his side (the kid steals the show with her stuffed puppet show). He has his wife and fellow pianist join in and duet on the sleepy songs. Spoiler alert: None of the songs help Mila doze off, but they may still help your kid conk out for naptime.
Gaelynn Lea
Gaelynn Lea was born with brittle-bone disease, but that didn't stop her from becoming a classically-trained fiddler who plays the violin differently. Lea holds the instrument upright like a cellist would, and adds a loop pedal for effect. Her melodies are captivating and rooted in Celtic inflection. See kids, this is what passion for music looks like.
Madisen Ward And The Mama Bear
This mother-and-son folk duo have a straight-from-a-storybook-name, and their folk-blues tunes could easy soundtrack the next Pixar film. It's bright, catchy stuff, and there's a genuine connection between them. You can tell, because not once did Mama Bear correct her son or wipe something off his face.
Yusef
What the folk, people? It's the man formerly known as Cat Stevens. Here, the Fire Cat strums through his 1967 classic, "The First Cut is the Deepest," and the apropos "Father and Son." If your kid can't appreciate the vibes coming through this man, it's time to sit him down for a listening party of Catch Bull At Four.
Tweedy
Does Jeff Tweedy makes you optimistic that you and your kid will one day travel the world as a musical duo? This group, comprised of Wilco's Tweedy and his son Spencer, will give you hope. The boys had recently put out the album, Sukirrae, named after the matriarch of the family. This is what happens when your kid gets through puberty and wants to rock with you.
Preservation Hall Jazz Band
The artists-in-residence of the legendary New Orleans music hall bust out traditional Big Easy-style jazz so infectious, the CDC should make note of it. Is it dance party time? There are calories to burned boogying to the beat. Or just stand there and watch how into it the Santa-clad tuba player/singer is.
This article was originally published on