Oasis Star Reveals His Son Taught Him AC-DC's "Back in Black"
Noel Gallagher knows nothing. And he's fine with that.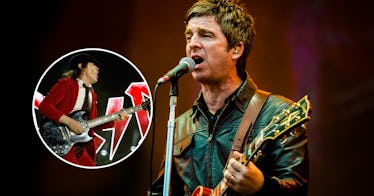 GETTY
Noel Gallagher might be famous for penning, and playing the '90s hit "Don't Look Back in Anger," but up until very recently, he didn't know how to play several famous guitar riffs from other bands. In a recent radio residency, Gallagher revealed that his 10-year-old son — Sonny — had to teach him how to play AC-DC's "Back in Black" and "Thunderstruck."
"He showed me, and I genuinely did not know how to play this riff, 'Back In Black', which is a famous riff," Gallagher revealed. He also explained that his son claimed a kid in school could play "Thunderstruck," and when asked if his dad could too, Gallagher said, "I sheepishly went, 'No'."
The other sweet part of this story is that as a father, Noel Gallagher said he hasn't pushed music on any of his kids. Rather, his plan is to "leave musical instruments around the house," and see what happens. In a sense, this is parenting done right. Don't be pushy about getting your kids into the things you love, but do open the door to them finding their way there on their own. And the best part is, even when kids do get into the things that define you, they'll still teach you new stuff.
While some Americans might perceive Gallagher (and his brother Liam) as boastful has-beens from the '90s, but the truth is, Noel still makes intricate and interesting new music. And clearly, as a parent, he's not half bad either.
Noel Gallagher's latest release, a double-album celebrating his last ten years of music — Back the Way We Came Vol. 1 — is out now.
This article was originally published on